The Strain Season 2 Episode 11 Review: Dead End

Henry A. Otero at . Updated at .
Dutch Lives! I'm sure some fans aren't thrilled, but I'm glad she survived the ordeal.
Besides, the Eichhorst flashbacks alone made The Strain Season 2 Episode 11 wonderfully entertaining. The fiend got what was coming to him, not only for playing with his food, but for teasing Dutch with that POPO-schnapps.
"Dead End" was chock-full of tension. Well, aside from the Lumen and Gupta stuff.
Dutch: What are you going to do to me?
Eichhorst: Everything.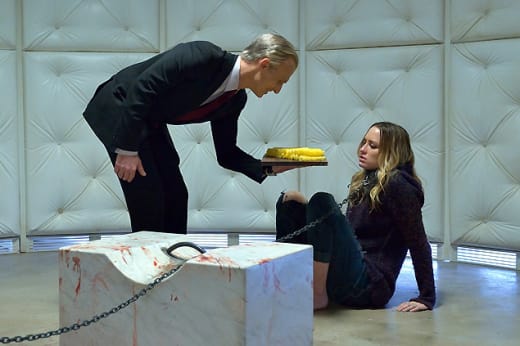 Watching the strigoi feed never gets old. That effect of drinking the human like a juice box as they grey out is sensational. I'm curious if Dutch living to fight another day really bugged anyone? Naturally, I realize the stakes are lower if all our characters survive, but I feel like her death will involve Nikki. Otherwise, what was the point of reintroducing that character at all? Either way, share your thoughts with me below.
In my review for The Strain Season 2 Episode 10, I mentioned that Setrakian and Fonescu should sit down to chat about the Lumen. Interestingly enough, that's exactly what went down, though the man turned out to be a real idiot. How's it possible Fonescu remembered Setrakian from the Austrian nunnery, yet sold the book to Creem in the end? And all for a vacation to Tahiti? Seriously?!? Ugh!
These turn of events were so disappointing, I'm not even going to mention them again. Suffice it to say, that at least Creem was hunting the book for Abe and will hopefully hand it over. Yeah, the quest for the Lumen's grown older than the Master himself.
Now, back to Eichhorst and Dutch. I loved that her scent triggered the former Nazi's flashbacks.
Your scent reminds me of a certain perfume that used to fill me not only with desire but despair, because I knew I could never possess the woman who wore it.

Eichhorst
Dutch's comeback was pretty ballsy, "So you joined the Nazi party because you couldn't get laid?" Richard Sammel is so intimidating, he doesn't even need to say a word. I felt ridiculously excited watching "Heidelberg, Germany – 1931" scroll across the screen. The Strain Season 1's Eichhorst flashbacks were easily my favorite scenes, so I knew things were going to get interesting.
Did you ever in your wildest dreams picture Eichhorst as a door-to-door salesman? It was fascinating to get some insight into the character's personality pre World War II. I actually felt bad for the guy when his boss mocked his lack of confidence. The quick cuts to Helga clued us in to the fact that this was the woman Tommy desired.
I found myself rooting for Thomas when he asked Helga out on a date.
Helga: Oscar is a bully who will never be more than a salesman. I think you're terrible at selling radios Tommy, because you're destined for bigger things.
Thomas: Thank you. Thank you for saying that.
Of course, it was fairly obvious Thomas would be responsible for Helga's terrible fate. However, watching those life-changing events unfold was compelling. I'm a huge fan of character development, and since Eichhorst is one of my faves, I'm glad we got this peek into his past.
I recently commented on The Strain Podcast, that the National Guard should have made an appearance by now. Wasn't it ironic that their headquarters were right outside the Mayfield Hotel? I'm glad it didn't take Fet long to figure out a way in, since Eichhorst was preparing his pineapple seasoning.
It was cool that Gus and Aanya finally hooked up. Now that the Guptas are out of the picture, I'm hoping he gets back to work. Gus was kickin' ass and taking names with Vaun, then the character was saddled with a love story. That would have been fine had she stuck around (or died), but the whole storyline seems so pointless in retrospect.
Personally, I already liked Gus and didn't need this arc to convince me he's a good guy. I just feel that it should have served the Silver Angel/Gus/Quinlan relationship better. Guess there's always next season.
The moment that Nazi stood up to speak, I realized Helga was Jewish. Eichhorst's nasty racism emerged, and I hated him again. He's undoubtedly, the character we love to hate.
Helga: I was wrong about you. You're not destined for better things. You're right where you belong. At the bottom of the blackboard.
Thomas: No Helga.
From this point forward, I no longer felt any sympathy toward Eichhorst. Dutch just had to outsmart him, and the dead cop's pepper spray was a nice touch. Was that scream that came out of him intimidating or what? I wonder what exactly he was going to "try" out on her? I loved Dutch's line, "Well I know you lost your dick 70 years ago, so what are you going to do?"
There was no way she was going down without a fight. You've got to love her for that. It almost made me forget the whole Nikki nonsense.
The chase was on, and again, it was terrifying as hell. Some first-rate directing by Phil Abraham (The Sopranos, Mad Men) throughout those hallway/stairwell sequences. I was literally on the edge of my seat, and those moments have been rare for me this season. Was Dutch was about to run into Fet, Eph and Nora? Psych! Our heroes were in a different stairwell altogether. I enjoyed how the chase played out. It was a lot of fun.
Good thing Fet loves his explosives, right? Man, they came so close to catching Eichhorst this time. While I'm glad he escaped, the character's making one bad decision after another.
Speaking of bad decisions, in the final flashback he denied knowing Helga only to see her hanged. There's no question he was a monster before ever becoming a strigoi. There are only a couple of episodes left. How do you think the season will end?
What did you think of "Dead End"? Did you enjoy Eichhorst's flashbacks as much as I did? Are you glad Dutch survived? Bored of the Lumen storyline yet? Go ahead and sound off in the comments below Strainiacs.
Check out those flashbacks one more time. Watch The Strain online  via TV Fanatic.
NOTE: The Strain Season 2 Episode 12 is titled "Fallen Light" and airs on Sunday, September 27.