Sometimes you drill and strike oil, and sometimes all you come up with is a dry hole. 
While Blood and Oil Season 1 Episode 3 had all of the ingredients in place to be satisfyingly soapy, the episode ended up falling very flat.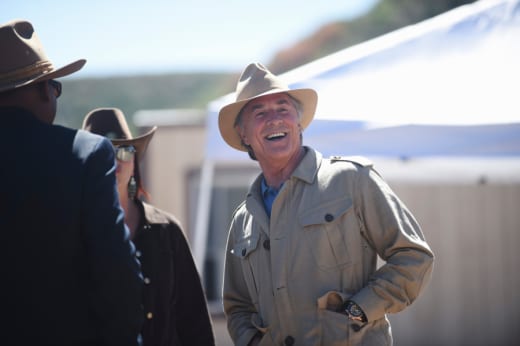 Well, this is it. Day one of the Wick Briggs redemption tour. Wish me luck!

Wick
Let's start with Wick, who is being pulled in so many directions as a character that I find myself flip flopping every scene about whether to feel empathy for him or hatred.
Wick isn't in a great scenario. He desperately wants to be his own man without his father's help, but also craves Hap's approval and love. Hap's newfound friendship with Billy is driving Wick crazy with jealousy, and Hap knows it. Hell, he's USING it. 
Wick is still trying to cover up his part in the robbery of Briggs oil and the subsequent murder that followed. Nightmares are leaving him waking in cold sweats, and his guilty conscience is bound to overflow soon, especially now that Gary has been arrested and it looks like he's not going to keep Wick's secrets anymore.
At least Wick's love life is great, right? He's in love with a great girl who really gets him. The problem is that Jules also really gets his dad, and it's not going to end well for Wick. (More on that later.)
Billy: Maybe your problem isn't with me. It's with your dad.
Wick: What is this, a little frontier therapy?
Wick's rivalry with Billy is already getting old. We get it. Wick is jealous. Billy's trying to get rich. Blah, blah, blah. I feel like we've been watching the same scenes with them over and over again since Blood and Oil Season 1 Episode 1.
I want to see them work together to take on Hap since they are both being taken advantage of by him. But sadly, I don't see it happening in the near future. 
Billy's got big problems, and I have to wonder if he's wishing he could go back to two weeks and one day ago and just insure those two washers and dryers. Billy is becoming obsessed with the oil business and with making a quick buck. Did he honestly believe that he knew what he was getting into with Hap, or that in two weeks he'd become a master bargainer? 
I was actually glad to see Billy get burned by the elder Briggs. Maybe this will put an end to his need for making deals, and he can finally take a step back and realize that he got lucky once because his wife, Cody, kept her eyes and ears open. Things aren't always going to be quite so easy.
It will be interesting to see what kind of "revenge" he attempts to take on Hap.
Not exactly sure how to say this, but um...you and Billy, it's nauseating.

Jules
Jules said what we've all been thinking. Billy and Cody's sweetness has been nauseating. 
The introduction of a new man in town, Finn, seems like it may put an end to some of that sugar coated happiness. Finn (Hart of Dixie's Wilson Bethel,) is first introduced when he hits on Cody and asks for her help in getting him a chef's job. Cody ends up pairing him with Ada and Kess, who she and Billy gave $50K in order to open a restaurant.
Finn has no problem making nice with married women who are off limits. He and Ada have a lingering-touch moment while serving up some sandwiches, and he winks at Cody when she reminds him that he needs to keep himself professional. 
I'm willing to bet that Finn and Cody will find themselves in a sticky situation together soon. It almost seems too obvious.
Lacey and Carla continued to snark at one another this week, and it went nowhere. There was no mention of Carla knowing that Lacey is sneaking around with AJ, and Lacey continued to do her best impression of an entitled 16-year-old girl who hates her parents. I expected more from these two. 
We sneak around here for nearly two years, and then you bugger off to New York for a month, and you come back with a ring on your finger and Carla on your arm. No word to me. No apology.

Jules
As if all of those stories weren't enough for an hour of television, we were treated to extra devious actions and explanations from Hap Briggs. He had a hand in almost every story this week, and a we finally got to see exactly how villainous he is. 
His affair with Jules didn't come as a surprise. What DID surprise viewers was his admission of love for her. He's enamored by her imperfections, which he finds himself wanting as he sits back, taking in his perfect life. 
When I lie in bed at night with my perfect wife, in the perfect house with everything perfectly in place, I keep wishing that I was in a room with an unpainted spot.

Hap
His scenes with Wick were a mixed bag, ranging from a loving father sharing a sweet story about his son's premature birth to a conniving man using his son's vulnerability to steal his girlfriend from him. It's no wonder that Wick is being pulled in so many directions. Hap is a reckless emotional driver, twisting and turning his son for his own personal needs. 
Hap suddenly felt like an evil caricature. It bothered me because I enjoyed the villainous nature behind the charm, not the very obvious motives that make me feel like all he's missing is a twisty mustache.
Hap was a  much richer character when I thought there was sadness underneath his smile.
As Hap mentally toys with Billy, Jules, and Wick, I'm still wondering what role Carla plays in all of this. If I wasn't so suspicious of her intentions, I'd feel sorry for her. She's had nothing develop that would seem even remotely redeemable, so I'm just waiting for her deceptions to kick in.
Not every well is a gusher. Sometimes you drill a dry hole. But that's not on me, that's reality. When you met me, you told me you wanted to learn the oil business. Well guess what, son? You just learned.

Hap
In the end, the oil stopped flowing after just a few exciting showers. For me, it felt like a very similar parallel to the way Blood and Oil is playing out. It started as a very exciting premise, but seems to have quickly dried up into another mundane soap opera. 
Oil Spills: 
Can ANYONE in Rock Springs drive a vehicle responsibly? Where do they all get their driver's licenses?
Why doesn't Jules want Finn to be a chef for her restaurant? He's got great experience. Has she not heard of the Rammer Jammer in Bluebell, Alabama? 
AJ and the soil – what's going on there? He's taken photos of Hap, and he's scraped soil off of his tires. He's obviously using Lacey, and I'm still really unclear as to why; and honestly? I don't care. AJ bores me.
How quickly do people close on property here? They made mention that two weeks have gone by since the Lefevers arrived. In two weeks, they've moved three times and closed on an expensive house. Jules must be a really great and speedy realtor. 
Is Koala just about the cutest name ever for an oil site?
Was "Hustle and Flow" a hit or a miss with you? Why is AJ collecting soil? What do you think about Hap and Jules? Does he really want to be with her, or is he trying to keep her quiet? How will Billy get revenge? Sounds off in the comments below!
Missed any of the action, or want to watch again? As always, you can watch Blood and Oil online right here at TV Fanatic!