Brooklyn Nine-Nine Season 3 Episode 3 Review: Boyle's Hunch
Robin Harry at . Updated at .
What you gonna do with all that hunch?!
Brooklyn Nine-Nine Season 3 Episode 3 kept the winning streak rolling with another hilarious offering.
I'm going to keep talking about how amazing Joe Lo Truglio is until someone starts paying attention. The energy and comedic timing he brings to every single line he delivers is nothing short of incredible.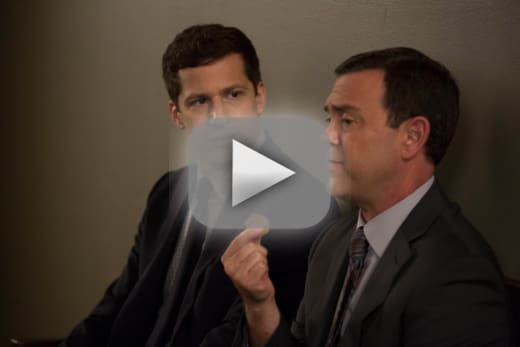 JAKE AND CHARLES
Charles Boyle is the happy, joyful and competent Tobias Funke of this ensemble.  He has the job of being the butt of the jokes, and is often unaware of his own awkwardness or inappropriateness.
Unlike Tobias, though, Charles isn't pathetic. He is too joyful about himself to care what people think. He knows who he is and he knows what he likes. So even though we laugh at Charles, we do so while completely respecting him.
That's not an easy balance for an actor to pull off; I imagine it would be incredibly easy to fall on the side of the line where the character becomes a total joke. Joe Lo Truglio nails that balance, and makes it seem effortless.
The number of innuendos and inappropriate comments that Charles had was absolutely staggering. I loved that he decided to free the woman of his dreams, and I love that Jake trusted Charles' instincts enough to follow his lead.  When Jake is with Charles, he gets to be the straight man, and that is just as fun to watch.
Jake: Okay Charles, let's free an innocent woman.
Charles: Nice! My dreams are coming true. You and me, getting my lady off together.
Jake: I mean, you know how that sounds, right?
CAPTAIN HOLT, AMY AND GINA
In this storyline, the show demonstrates how a comedy can deftly navigate charged subject matter with respect. The public image of police departments everywhere have been taking a beating, with questionable practices and racial tensions ever present in the media. As the new head of public relations, it stands to reason that Captain Holt would have to figure out how to manage this very real issue.
I love how this was handled. For one, I love that Holt failed with his first campaign. His attempt to use Amy as the department's poster girl showed that he was out of touch with what civilians actually want. They don't want an improved image; they want to be heard.
Secondly, I love that Gina was right. The person who had the solution to their problem wasn't the cops on the inside looking out, but the civilian who had the unique vantage point of being a part of both worlds.
All that said, this story still had its moments of levity. Amy's obsequious deference to Captain Holt will always be funny, and Gina's quip on the Backstreet Boys was so golden that I can't stand it. I'm a huge BSB fan (not ashamed), but let's be real; we all know Brian and A.J. are the two that matter, right?
This campaign, like three-out-of-five Backstreet Boys, is inconsequential.


Gina
So far, I've enjoyed seeing how they've been able to keep Captain Holt engaged with the rest of the group while he's at One Police Plaza. However, now I'm itching to see the whole group back together. I'm ready for the Nine-Nine to be made whole now.
TERRY AND ROSA
The C-story of each episode can be hit or miss, and this one hit the mark. It was just enough to be amusing, but just little enough to not be distracting. Besides, I'm okay with any time Hitchcock and Scully get to be jerks.
I'm glad they slipped that assurance in there that Rosa and Marcus are still an item, and I absolutely agree with Terry. Why would anyone throw out a spoon?
OTHER NOTES:
Charles and Jake's "My Hunch" needs to be available on iTunes, stat.
The cold open with the tarantula was the best one of the season so far. Terry hates creepy crawlies. I about died of laughter when he started screaming when the tarantula got on his head.
Which brings me to the quote of the week: Jake's epic litany of names for the spider:
Jake: It's a tarantula! I call him Jake Jr, a.k.a. Spidey Klum, a.k.a. Mrs Doubtspider, a.k.a. Joe Spiden, a.k.a. Tarantula Bassett, a.k.a. Spidermot Mulroney.
Charles: a.k.a. Tarantulina Jolie.
Jake: Charles, have you seen it? That's a terrible name.
What did you think? Are you on board with Charles' new romance? Is it time now for Holt to go back to the Nine-Nine? And most importantly, do you agree with Gina's take on the Backstreet Boys?
As always, you can always watch Brooklyn Nine-Nine online.