It's not easy being chief.
On Grey's Anatomy Season 12 Episode 2, Bailey learns that being chief isn't exactly what she thought it would be like. And though she doesn't mean for it to happen, her old nickname of "The Nazi" resurfaces.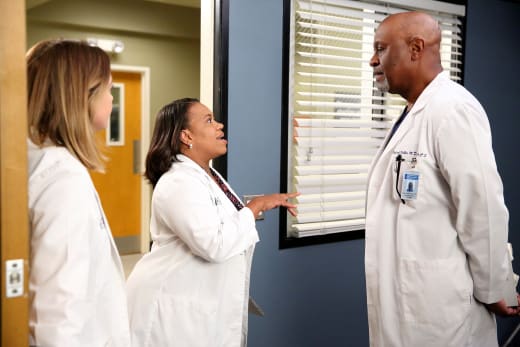 Along with that? The continued realization that Grey's Anatomy is returning to the way it used to be. There's hospital drama, unique patients, and even a kiss in an elevator!
It's lighthearted, and it's fun. The dynamic has even been set up to remind us of older seasons, with Bailey in charge of her old interns, and Webber having the change to mentor Bailey on how to be a leader. With which she clearly needs some help, since she is so quick to get to her job that she doesn't realize the attendings are trying to throw her a surprise breakfast.
Bailey's heart is in the right place. She's put a lot of pressure on herself to do everything exactly right, as always. Ultimately Bailey knows how to be a leader, we've seen her do it exceptionally well. Still, a little reminder from Webber (who I really just want to call the chief) goes a long way.
The patient that she's hoping to help? An extremely tall woman with a tumor that needs to be dealt with quickly. The patient wants to leave, and for great reasons, so she gives them a deadline of four hours to decide what to do.
That's right, we're focusing on patients. And maybe not all of that works perfectly well – I could do without the dramatic moment when the patient collapses right on top of Jo. It's a bit cartoonish, and it feels silly. The point, though, is that we get to focus on the doctors working together to help a patient, with their own drama festering on the sidelines. That's the way Grey's Anatomy is supposed to be. Even better? The surgery, which is filled with complications, is ultimately a success.
Speaking of drama, I'm hoping that April and Jackson's marital issues will be resolved, one way or another, soon. I'm sad for both of them, and I'm also angry with both of them. It's impossible to imagine going through what they have with the loss of a child, but neither of them seem to be trying to make things work. It's painful to watch, and I can't help but be frustrated with these two.
What's really exciting is that Meredith now has yet another responsibility. Bailey wants Meredith to be the new Bailey, and appoints her chief of general surgery. As we've been promised, it looks like we are going to be focusing more and more on Meredith's character and getting the chance to see her continue to grow throughout Grey's Anatomy Season 12. If that's the case, we're in for great things.
What did you think of "Walking Tall"? Share your thoughts in the comments below!
Need to catch up on past episodes? You can always watch Grey's Anatomy online right here via TV Fanatic!
Ashley Bissette Sumerel was a staff writer for TV Fanatic. She retired in September 2017. Follow her on Twitter and on Google+.