Jane the Virgin Season 2 Episode 3 Review: Chapter Twenty-five

Amanda Steinmetz at . Updated at .
A year ago, Rafael had no children. Now he's received word that baby number two is on the way from a different woman than the mother of his first child.
It was nothing but drama on Jane the Virgin Season 2 Episode 3 for Rafael as he broke the news of Petra's pregnancy to Jane. Needless to say, the thought of Petra being a part of their lives forever was not comforting.
So how did Rafael and Jane reconcile this new development? Let's discuss.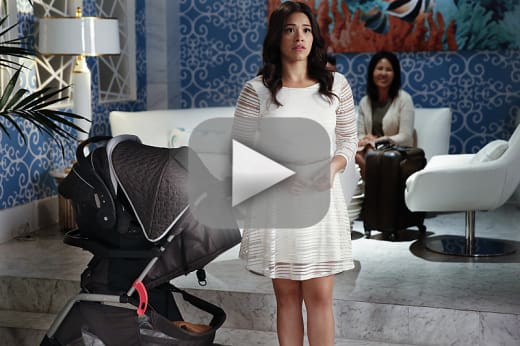 Rafael was rightly suspicious of Petra's pregnancy, but any theory that Petra was lying was quickly put to rest as the doctor confirmed she has a bun in the oven. I was curious to see how Petra was going to explain herself to Rafael, and I was pleasantly surprised to see her be so straight forward about wanting to get pregnant so they could get back together.
Petra is manipulative and selfish, but she'll do anything it takes to get the man she loves back. Even after Rafael admitted he had pretended to flirt with her, Petra still believes there may be a chance for the two of them since he and Jane are not officially together.
Jane: Hey, are you okay?
Narrator: How do you find the words to say that your psychotic ex wife inseminated herself with your stolen sperm?
Rafael: Yeah, totally.
Speaking of which, Rafael kissed Jane after she got re-accepted into grad school. This is only going to confuse Jane more when it comes to making a decision between Rafael and Michael. Although Petra may try to add fuel to the fire with the picture she took of Rafael kissing Jane. Petra will definitely show that picture to Michael. 
I was worried about Michael for the majority of the episode after he listened to Rogelio's terrible advice. Michael knows Jane better than most people. Why on earth would he think Jane would respond to that type of cold, aloof behavior?
I wasn't happy about this storyline at all until we got to the journal he kept for the few days he couldn't be himself around her. I thought it was sweet how Michael wanted to be there for Jane and be a sounding board for her concerns and worries. He also gave her some terrific advice about how to handle Petra's pregnancy. He admitted he made all the wrong choices when Jane was pregnant.
I know you must be freaking out over this news about Petra, but I do have some experience with the whole surprise pregnancy via insemination scenario, and when it happened with you, well I pretty much did everything wrong. I guess I just tried to ignore it, instead of embracing it. So that's my advice to you. There's a baby coming. Whatever that means to you, embrace it.

Michael
Jane spent the majority of the episode worried about juggling school with being a good mom to Mateo. I thought the storyline was fine, but I don't want very episode to be Jane trying to figure out if she can truly have it all. I think there were some great moments between the three Villaneuva women as they were preparing for Mateo's baptism.
I wasn't sold on Rogelio's still shattered heart over his ex-wife, Luciana, but I'm glad it was a way for Xo to realize she can't run away when times are tough. It was a good sign to see her want to work it out. Unfortunately, Luciana seems to have some footage of Rogelio that he doesn't want anyone to see. Color be intrigued! 
Finally, we have kidnapped Luisa. She's such a basket case of a character, but she's so entertaining. Her mood change when she thought Rose (aka Sin Rostro) had orchestrated her kidnapping was both hilarious and very troubling. She actually thought it was romantic. 
Poor Luisa eventually realized that her captors weren't working for Rose, but were trying to use her to lure Rose out of hiding. The question is who wants to find Rose, and how did they know they could use Luisa to do it? 
So over to you guys! Who kidnapped Luisa? What could be on the video Luciana is holding over Rogelio's head? Did Rafael and Jane makes the right deicison about Petra staying in their lives? What are your predictions for Jane the Virgin Season 2 Episode 4?
Sound off below, and don't forget you can catch up on any missed episodes when you watch Jane the Virgin online via TV Fanatic!
Amanda Steinmetz was a staff writer for TV Fanatic. She went into retirement in June of 2027. Follow her on Twitter.