Scandal Round Table: She Said WHAT!?!?
Miranda Wicker at . Updated at .
Never has there ever been a more shocking ending to an episode of Scandal since Olivia Pope sat down in a limo and uttered the word "Dad" to Rowan Pope. (Okay, so, like, a season ago.) Shonda Rhimes knows how to write a cliffhanger! 
At least we won't have to wait four months to find out what's going to happen now that Olivia said "yes" to being asked whether she's the First Mistress!
Check out the reactions from the TV Fanatic Round Table panel (Christine Orlando, Whitney Evans, and Jim Garner) and jump into the comments below with your own thoughts!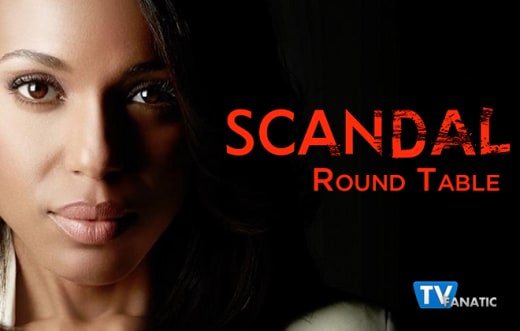 What was your favorite quote or scene from Scandal Season 5 Episode 2?
Christine: It's hard to choose but I loved how Abby knew exactly what Olivia was about to do when it all hit the fan, "The President's about to get Pope'd." She saw it coming a mile away. The President didn't have a clue.
Whitney: I actually liked the ending because it was completely unexpected. The last thing in the world I expected Olivia to do was admit to being the President's mistress, but I kind of liked that she did.
Jim: I have to go with my favorite exchange. Cyrus telling Abby to be the adult was awesome. I'm pretty sure he ended every sentence with "be the adult".
Did Fitz owe Mellie an apology?
Christine: Absolutely! Especially if he wanted her help to clean up this mess. It's not as though Rowan hasn't manipulated him but when it comes to Mellie, Fitz cuts her no slack and frequently insults and belittles her yet he always ends up back with Mellie when his back is against the wall. 
Whitney: Honestly, Fitz owes Mellie a million apologizes. Like Christine said, he needed Mellie to help him with the situation he created. By this point in the shows run, it's clear that Fitz hasn't been in love with Mellie for a long time, but he did love her at one point and she is the mother of his children. You would think those reasons alone would make Fitz treat her better. 
Jim: Yes(ish). His approach to serving her the papers was pretty damn cruel, but I can understand him wanting to hurt her for working with Command. 
Who is actually the adult on this show?
Christine: Is there one? They all act like children more often than not but I did love Cyrus analogy that Fitz was a frustrated child who needed a parent to take control. He wasn't far off base. Once Olivia took off, it seemed as though Fitz couldn't make a decision without her. Just what the country needs in a President! Then with a little push from Abby, he was back partnering with Mellie. It doesn't take much to manipulate Fitz. 
Whitney: This show is filled with adults who act like petualant brats, so it's hard to single one out as an adult. The only person who comes to mind is David, but that's really not saying much. 
Jim: Jake, he is the only one that seems to think beyond "right now". I'm hard press to think of a time when he did anything solely for himself.
What does Abby actually want from Liz?
Christine: Respect more than anything, I think, and Abby realizes that they are both more powerful as allies than enemies. If they work together they can probably rule the White House.
Whitney: I think Abby really does want to be her equal. She hasn't gotten a ton of respect since she began working in The White House, so by forcing Liz to work with her and not against her, I think she's hoping to show her just how value she can be.
Jim: Respect would be my guess. Abby lives for being respected, I'm pretty sure it stems from some untreated victim issues that we know she had in her past.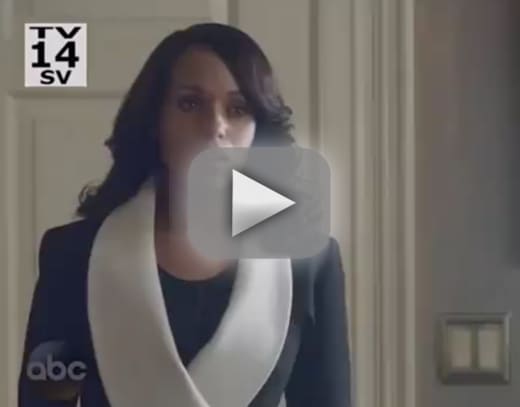 What's Jake's play now that Olivia confessed?
Christine: I really don't know. I thought it was unfair of her to lean on him so much when she had no intention of being with him. It's as though Jake is her consolation prize and I wonder at what point he'll get tired of playing that role. 
Whitney: I like Jake, but it's time for him to move on. He can't continue to allow Olivia to use him when she feels like it. He can be a friend to her, but he needs to draw the line somewhere. 
Jim: Table-flip and walk out? Seriously, I love Jake for his willingness to let Olivia abuse him, but come on man, gotta grab the boys and walk out at some point. 
Were you shocked that Olivia said "yes"?
Christine:  Yes, but happily so. Just when I was thinking, Here we go again, with Fitz and Olivia hiding their relationship, she made this bold move. I don't think it was smart. Mellie was right, she'll now be known as America's mistress but this will definitely be more interesting to watch moving forward. 
Whitney: I was totally shocked, but I also thought, it's about time. The secret was going to have to come out at some point and I'm glad we're attacking it in the beginning of the season. I'm really interested to see how it plays it and how Fitz and Olivia are able to handle fallout. I have a feeling it will not be smooth sailing for the newly reunited couple. 
Jim: Absolutely. It looked like they were putting everything back in order so the series could toodle on down the road and BLAM! she said "yes" -- Mind. Blown. 
Scandal Season 5 Episode 3, "Paris Is Burning," airs Thursday night at 9 on ABC. You can watch Scandal online right here at TV Fanatic!
Miranda Wicker was a Staff Writer for TV Fanatic. She retired in 2017. Follow her on Twitter.