Scandal Season 5 Episode 2 Review: Calm Before the Storm
Miranda Wicker at . Updated at .
Now that I've taken a minute to scrape my jaw off the floor, dust off my heart, put it back inside my chest, and confirm it is, in fact, still beating, it's time to discuss Scandal Season 5 Episode 2. Because there are things to discuss, y'all. 
All of the things. Jolivia. Olitz. Huckleberry Quinn. Even the new ships Libby and Abrus! And then there's Mellie Grant. "YES" was all over the place in the absolute best possible ways.
When Mellie Grant walked herself into the Oval Office and asked for an apology, all I could do was nod my head like "Mmhmm, Fitz. Go ahead and apologize."
He may not owe her one for the divorce papers, because frankly, those should've been handed out two seasons ago, but he definitely owes her one for acting like he's never done anything wrong or bad or illegal in his life.
This is a man who, on Rowan Pope's orders, shot down a commercial airliner and murdered hundreds of people. He believed he was doing the right thing, so he did it. It's the same with Mellie Grant. She had no idea who Rowan was or what he planned to do with the list of jurors. She acted in what she thought was the best interest of both herself and her family. 
Someone, ANYONE, please slap Fitz across the face with that information. I'm dying to see it, and I know I'm not alone.
His sanctimony is tiring, no matter how many times he says he's "just a flawed person." 
Susan Ross was ON THE MONEY tonight with her soft interrogation that called Fitz' character into question. Did he at no point stop to consider that he doesn't have the freedom to live the kind of life he's trying to live? He doesn't get to move his mistress into the White House – literally – and move his wife, the FLOTUS and a Senator, out. That's not the job.
This is not the time for making jam.
Cyrus wasn't wrong to tell Abby that she needs to be the adult because Fitz is a child, and man, did I love seeing those two chat tonight. Cyrus and Abby (Abrus!) get my MVP award for dialogue. 
What I don't entirely understand yet is what Abby means by being equals with Liz North. The concept of being equal isn't a difficult one to grasp, but what is that going to look like for Abby as they weather this White House crisis? And oh man is there ever a crisis now that Fitz and Mellie were denying the affair at the same time Olivia was confirming it.
How Olivia plans to get the two of them out of this one smelling like roses is anybody's guess at this point. Never in a million episodes did I envision her saying "YES" to being asked if she and the President had actually had an affair, and especially not after spending the night snuggling Jake and pondering everything about her life, past, present, and future. 
Before the Olitz fans incite a riot and burn me at the stake while stabbing me with pitchforks, let me say this. 
I am not against Fitz and Olivia being together. I know and understand they are THE couple. I want us to see them have a healthy, whole relationship that isn't just hot sex on a desk in the Oval Office. 
We were on the road to that before the pictures were leaked. Now there's no telling what we're about to see from them, but judging by the previews for Scandal Season 5 Episode 3 (below), the main drama will be between Mellie and Olivia, and personally, I can't really blame Mellie for being angry. 
Olivia just blew up Fitz' entire Presidency, Mellie's role as Senator, as well as any hopes she may have had for being President someday. Unless Olivia has a plan to fix things for Mellie in all of this, yeah, she sort of deserves Mellie's ire. 
For a minute, I expected we'd see Olivia ask Jake to be her pretend boyfriend once again so she could go on denying the fact that she's in love and sleeping with the President, and my heart broke for him at the thought. 
Again, I get that Olitz is end game. I swear it. But I would be lying if I said I didn't also think Jake should be an option for her.
Jake really does love Olivia, no matter how their relationship started. He understands her in a way that Fitz doesn't, at least not yet and not that we've seen. When she asked if he learned about instinct and adrenaline from her father, he hesitated. I suspect he was about to say he learned it from her. She follows her gut. He knows what she's asking for without her having to ask. He just...gets it. 
Even if Jake and Olivia aren't romantically involved ever again, there's no denying that he's a powerful friend for her. He's the kind of confidant Abby, Quinn, and Huck aren't, though Huck has laid in bed next to her in a similar fashion once before.
And that brings us back around to Huck and Quinn. 
Earlier in the episode, I tweeted that I needed someone to remind Quinn that she's not perfect. She's sort of broken and doesn't really have any room to point her fingers at Huck. Someone listened.
If Huck's ever going to recover from the events of last season, learning his family is alive, murdering people to keep his family safe and to one day return to them, falling under Rowan's command once again, he needs Quinn's forgiveness to do it. She's the fixer now. Whether it happened when they slept together or just gradually over the time they spent fixing other people's problems and teaching her how to torture people and become a master-level hacker, she's the key to keeping Huck's monsters at bay. 
Okay, Gladiators. It's time to hear from you! What did you think of "YES"? Were you shocked that Olivia confirmed her role as the President's mistress? Was Abby right to force Fitz's hand?
Can Quinn help Huck tame his monsters? Sound off in the comments below and don't forget you can watch Scandal online any time!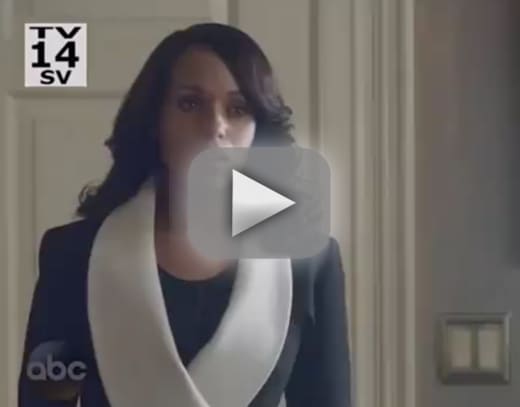 Miranda Wicker was a Staff Writer for TV Fanatic. She retired in 2017. Follow her on Twitter.