The Blacklist Season 3 Episode 4 Review: The Djinn

Sean McKenna at . Updated at .
Red is one step closer to getting to the cabal and exonerating Liz.
Granted, he will be one step closer the next episode, and probably the next episode, because Red likes to take his time taking out Blacklisters along the way while heading towards his ultimate goal. You just have to have faith in his master plan.
But The Blacklist Season 3 Episode 4 further emphasized that as much as we enjoy James Spader's Red and don't doubt he will eventually complete his task, there are other forces at work trying to help Liz.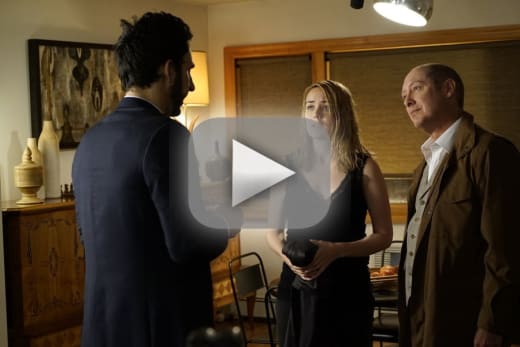 The most intriguing of those has to be Tom. He's definitely on a redemption path and willing to work with Harold to help Liz.
I find it hard pressed to not believe in his feelings for Liz or at least in trying to prove to her that he cares about her. Who else is going to sit around a restaurant waiting for a phone call for days? Who else is going to go on an unsanctioned op that could get him killed and without any backup to come rescue him?
There's such a determination there, but it was also a lot of fun seeing him work on his new identity. Watching him practice his story, with some notes from Harold, in the sort of montage was a cool and believable look into what he does so best.
I remember when Tom went undercover as some neo-Nazi back on The Blacklist Season 2 Episode 14, but that always felt a little silly to me. Yes, he was able to pull off his role, and he also did it when he was tasked with watching Liz, but this well-dressed gambling version of slickness was far more entertaining.
And it was great to see his instincts and work paid off in catching the eye of the rich and well-connected Asher. Liz may have tried to warn him to back off, but he was in, and he was going to get to Karakurt. I'm looking forward to more from Tom and Harold as he goes deeper undercover.
Of course, Aram also wants to help Liz, as does ultimately Ressler and Samar. Ressler really just wants to arrest her and bring her in, and then try and get to the bottom of it, but even with him being relatively by the book, you know he too wants to help her. Remember when he let her escape on The Blacklist Season 2 Episode 22? Or when he rescued her from the assassination attempt on The Blacklist Season 3 Episode 2?
I've got my money on either Tom or Red getting the job done, seeing as the FBI is always pretty much one step behind, but I wouldn't count their care and concerns for Liz out.
There's still definitely secrets Red is continuing to withhold, and that scene where he listened to Liz's fantasy and dream moved him. It's not often you see Red shaken up or unguarded, but just the way he stared at her has me still eager to figure out even more his connection to her. There's going to be some big reveal involving that soon enough.
The Blacklister of the week was more of a means to an end to get some special page from the Djinn's ledger. And it was interesting that even as Red was disgusted with what the Djinn's father did to his gay son, the deal was broken off and the Djinn wound up in FBI custody.
Though, I loved Red's "I'm sorry" reaction when Liz pointed the gun at the Djinn telling him the deal wasn't with her. Spader really does get to deliver some great lines and moments on this show.
He's certainly not going to be smiling after he finds out what happened to Dembe (he will make it after getting shot, right?) and that wiley Mr. Vargas making a deal to lead them to Red. It was a definite shock when it happened, though I couldn't help but wonder if Mr. Vargas was going to play turncoat when I first saw him appear.
The Blacklist Season 3 has been off to a solid start, and I continue to like the direction it seems headed, especially as Red and Liz remain fugitives. The case of the week felt like far more of a means to an end, but when it came to that overall story and the characters involved, I'm invested. Like Tom, I'm in and eager to see this all through.
Will Red save Liz before Tom? Is Dembe OK? Sound off below, and get up to date on all the latest when you watch The Blacklist online now!
Note: The Blacklist Season 3 Episode 5, "Arioch Cain," airs Oct. 29 at 9/8c.
Sean McKenna was a TV Fanatic Staff Writer. He retired in May of 2017. Follow him on Twitter.