The Grinder Season 1 Episode 2 Review: A Hero Has Fallen

Stacy Glanzman at .
But, what if it wasn't? 
Is that the perfect argument? It seemed to work pretty well. That is, until it didn't.
The Grinder Season 1 Episode 2 introduced a new character, Claire, and she's already made an impact on Dean, who apparently hasn't met anyone who doesn't like his show somehow.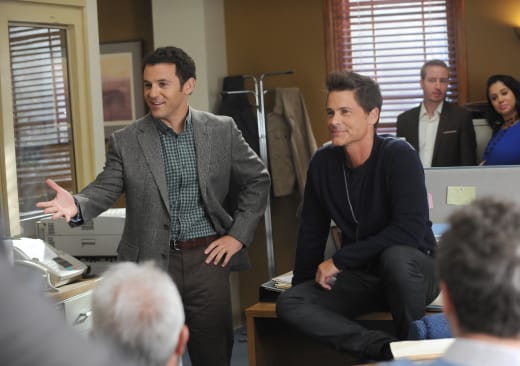 Claire is awesome. It was obvious from the moment we met her she'd end up working with them, but I'm still excited about it. Dean needs someone to challenge him besides his brother. Plus she's really funny. I just hope they don't end up hooking up any time soon. 
The first scene was a funny way to parallel the real show and the fake one as they discussed the importance of following up a great pilot with a successful second episode. The question is, did they manage it? 
I thought they did a pretty good job, though I admit I still liked the pilot better. It was good enough that I don't think they have to worry about losing too much of their audience by episode three. 
Obviously, Dean and Stewart make the show, but I love that they're fleshing out their supporting cast as well. Debbie had me laughing out loud more than once with her spot on sarcasm. Check out The Grinder quotes page if you need a refresher. She and Stewart make a great pair. 
I mentioned in my review of The Grinder Season 1 Episode 1 that I was looking forward to seeing Dean as a potential mentor to Ethan. There definitely was potential for humor there, but poor Ethan may want to reconsider listening to his uncle. He's lucky no one snapped a picture of him face down in his spaghetti. 
We haven't spent much time on Lizzie yet, but perhaps that's coming. So far we don't have much on her character and she hasn't added anything to the series. But, it's not necessary to cram too much in this early. 
Stewart started comparing himself to the sidekick from his brother's show, and as a result, decided that he should try to be more positive. That lasted about a minute before Debbie stepped in and talked him out of it. It was funny, but we need Stewart as the straight man to counteract Dean's over-the-top personality. 
Dean's depression montage was a bit silly and cheesy, but it gave us a sweet moment between the brothers when Stewart came to talk to him. Even though they don't always get along, they have a deep relationship and know each other well. They both have shown they know exactly what the other needs in order to regain their confidence. 
Stewart may not be completely on board with Dean playing lawyer, but he's getting there. I think deep down he actually likes having him and his goofy antics around. 
What's your verdict on The Grinder's second outing? It was Stewart's turn to drop the "literally" bomb! 
Don't forget, you can watch The Grinder online any time right here via TV Fanatic! 
Stacy Glanzman was a staff writer for TV Fanatic. She retired in March, 2019.