Shoot first think never!
While that might not be the very best of phrases for those of you sporting guns in the real world, it sure worked for our hero on Ash vs Evil Dead Season 1 Episode 5. 
Kelly took the brunt of the demon damage as "The Host," and she's not the one who lost her life. It seems there might be a new guy in the family ready to take on the title of Brujo at this point in time.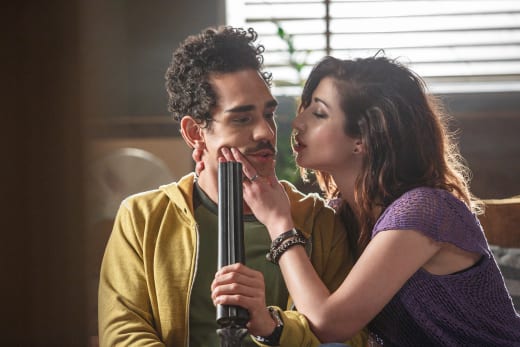 I'm not going to lie. My very, very, very favorite part of of the episode was Ash tied up and chatting away with a gag in his mouth, and we could understand every word he said. 
Of course, since it was fiction, for some unknown reason, nobody who was with him could do the same, and they were continuing to discuss all of their plans as if he was possessed and without his faculties, including cutting his balls off. So he screamed, "cuucghing gheye ghawls awff?!?"​  It was hilarious.
One of my biggest pet peeves in movies and on television is when people are gagged, and they cannot manage to get out any words. Now if it was a giant ball gag, that would be one thing, but a simple bandana-type gage? Come on, people! WE CAN TALK THROUGH THOSE! 
Loved that. 
So much more of it was Kelly in the throes of possession that there isn't a lot to talk about. She doesn't remember Pablo making his pass at her or that she put a shotgun shell into her shotgun bong. Pablo never knew how close he was to meeting his maker, although he was also willing to take a hit for her shortly thereafter by accepting the demon into himself. Awww.
Am I the only one disappointed with Lucy Lawless' role? Not only does she simply have nothing to do, Ruby is strapped with that bitch on wheels, Amanda. Not even being perched beside Ruby makes her any more interesting than she was as soon as she survived the premiere.
They're literally driving and going nowhere. Well, they think they have a destination, but as characters, they're aimless and no matter where they ARE going, I couldn't care less. That's not good. Do you guys have a differing opinion on the subject? Maybe you're really digging the 20-some odd seconds of content they get scattered here and there.
Given the ominous phrase uttered about Ruby before she blew the deadite's head off (or chopped it off, I can't remember) on Ash vs Evil Dead Season 1 Episode 4, I'm harboring some hope she's not who she says she is and will become interesting. But time's a wastin', ya know?
HIt me up! Those of you who have been watching, rewatching and analyzing and sifting through the debris of your rewatches to see what you can find about the series...SHARE! Quit being stingy. I want to know what you know! Meet me in the comments. 
Carissa Pavlica is the managing editor and a staff writer for TV Fanatic. She's a member of the Critic's Choice Association, enjoys mentoring writers, cats, and passionately discussing the nuances of television and film. Follow her on Twitter and email her here at TV Fanatic.