Change is good. 
At least that's what Rafiki said. It's coming to Angel's ER whether the docs are ready or not, with Dr. Taylor leaving due to suspension on Code Black Season 1 Episode 9. There's a new chief in town, and she's sure to have her own way of doing things.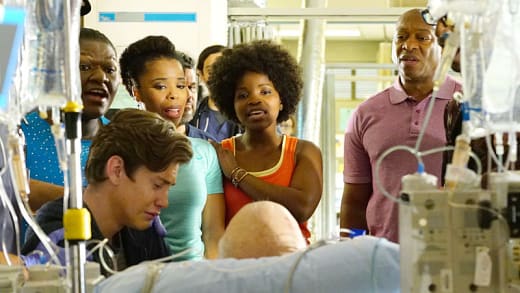 Taylor is on the outs with the board following his adventures with Randall in Code Black Season 1 Episode 8, and we can only hope that the fact he's on paid suspension means he will be back and not banished forever. 
The incoming chief, Penella seems to share some of Taylor's best attributes – the ability to make inappropriate jokes with impeccable timing first and foremost. But she's making more of an effort with the residents than is Taylor's wont, and seems like she might have a more hands on attitude with patient care.
So the question is, how will this play out for Rorish? The other attendings will be making an adjustment as well, but Rorish is the "cowboy" of the department, in part because Taylor has allowed it. With this outsider new on the scene, will she be forced to reign herself in?
Dr. Gina Perello: He should probably be more concerned with his prison wife. [beat] What?
Dr. Mark Taylor: I just feel like I'm looking in a circus mirror.
Leanne's facing change in her personal life as well. She's starting to open up more about her family, and that story she shared with Lawrence and his wife was the best use of her tragic past so far. I usually feel like it's really trite when Leanne's family is spoken about, but this was so organic. 
Jesse won best supportive friend of the year again when he cheered up by belting out his own version of the The Lion King, and I have to say, his singing voice wasn't terrible. Anybody who will publicly humiliate themselves just to make you smile is a friend worth having. 
But perhaps the most turbulent aspect of Leanne's life right now is Dr. Cole Guthrie. I'm still not really feeling the chemistry between them, but the writers are doggedly pursuing the romance, so we (and Leanne) better get used to it. At least they still fight over cases, keeping things from getting too sappy or fairytale-esque.
Dr. Leanne Rorish: I'm just curious as to why.
Dr. Cole Guthrie: Why I asked you out?
Dr. Leanne Rorish: Why you thought I'd say yes.
Dr. Cole Guthrie: Well, you don't ask someone out because you think they'll say yes. You ask someone out because you are interested.
Of course, the fledgling romance might crash and burn once Leanne finds out that Cole wants to poach Neal from her staff. They may have clashed in the pilot, but she relies on him to be her backup -- with her patients and her students.  
I was intrigued by the surgical resident, who according to iMDB has a full name (Dr. Heather Pinkney), meaning she'll definitely be back. She had some chemistry with Mario as they battled it out over procedures, so she could be a potential love interest.
Or maybe we'll be branching out from emergency and heading upstairs to the OR on a regular basis. It's far from unprecedented, but even ER took a few seasons to make that jump. 
There's gonna be times when there's nobody there to back you up. When the only things you have is your eyes and your instincts. It's important that you trust yourself. And never, ever, ever give up on the patient. No matter what.

Jesse Salandar
Other Thoughts
Who saw that late-in-the-game twist coming with patient Karen? 
Might we be throwing the surgical department into the mix? Or was the surgery resident just a possible frenemy? 
How long is the Angus/Mario back and forth going to go on? I see this getting real old real fast. 
I was pleasantly surprised with how the cast of the Lion King was worked in. Based on the promos, I was dubious about the move, and afraid that it would be an artless stunt of some kind. But they really pulled it off, and even my cynical was touched. 
Christa's experience with her son was handled sensitively by allowing her to connect with Jeremy. Beautifully done. 
Dr. Malaya Pineda: Well, what about Guthrie? He's been here since dial-up.
Jesse Salandar: Dial-up wasn't that long ago.
The upcoming "Cardiac Support" (airing December 2nd) looks like it will be a gut wrencher. Mama, aka Jesse, finally get a featured story, but in the worst possible way. It'll certainly test the ER staff...Leanne most of all.
The promos don't look good for him, but it's got to be to early to lose the heart of the show...right? With five more episodes ordered, he just has to survive. 
If you missed "The Son Rises," or just want to re-watch that awesome performance by the cast of The Lion King, you can watch Code Black online. Join us in the comments section to share your take on the episode. What was your favorite case?
Elizabeth Harlow was a staff writer for TV Fanatic. She left the organization in October 2018.