Empire Round Table: Cookie Gets Her Groove Back

Whitney Evans at .
It's getting hot in here, people! 
Cookie and Mr. Delgado were really heating up the screen on Empire Season 2 Episode 7, but we now officially know that he is up to no good. Just where is this story going to go? And Hakeem and Laura look like they may get a chance at romance, but are they built to last?
There was lots to discuss this week. Join TV Fanatic Round Table regulars Carissa Pavlica, Paul Dailly and Whitney Evans as they break it all down!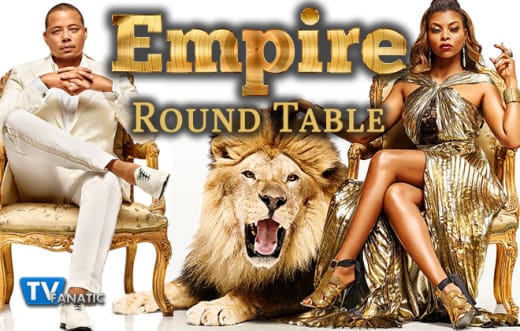 What was your favorite quote or scene?
Carissa: I didn't have one. But I do absolutely hate Lucious' song. I never want to hear Boom Boom Boom ever, ever, ever again.
Paul: The girl band singing while Laura was being shoved out of the front. LOL.
Whitney: I could not agree more, Carissa! I despised that song, and I never want to hear it again. On a brighter note, I liked Hakeem taking Laura to sing in the city. He is so much more enjoyable this season!
Are you seeing Lucious differently now that we've seen all these flashbacks with his mother?
Carissa: No. They aren't really the best flashbacks to portray him in a good light. They're glimpses of what he saw, but not what he felt. If they showed me what he felt, I might have more sympathy for him. But he's still such an ass and learned so little, it's hard to feel much for him. Still love him, though.
Paul: Nope. If anything, his past should have taught him to be a nicer person. Andre needs him, and Lucious just keeps pushing him away. He needs to get his act together before it's too late.
Whitney: Absolutely not. Lucious is awful, and I don't see how he can be redeemed at this point. If anything, the flashbacks give insight into why he's kind of denied Andre's illness, but it doesn't make it right.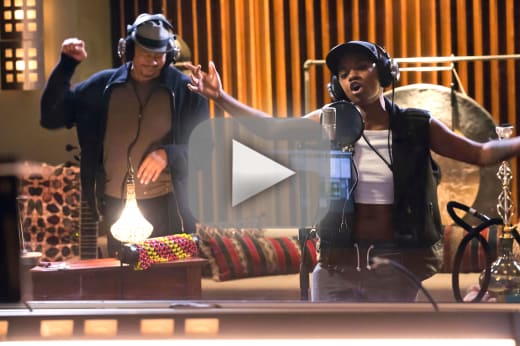 Do you think Hakeem genuinely cares about Laura?
Carissa: I'm not sure if he feels for Laura or if he really wants to prove to Cookie that his head is all business and he takes after her. Maybe it's a combination of both.
Paul: I think so. He seems to have her best interests in mind and all, but he needs to make sure not to get too close or it will only make Cookie want rid of her again.
Whitney: I think he saw her as a conquest at first, but after she helped him on stage after the kidnapping, I think he felt a real connection to her. I'm not sure if these two are meant to last, but I'd like to see Hakeem settle down for a bit.
Better team: Cookie and Jamal or Cookie and Hakeem?
Carissa: DIFFERENT teams. I think what we're learning is that Jamal needs Cookie more than Hakeem. Hakeem's taken what he has learned from her and put it to use in his desire to be a mogul, while Jamal still needs her for his music and trusts her more than Lucious. We'll see what happens when Hakeem starts recording again.
Paul: Last season I'd have said Cookie and Jamal, but this time round, I'm loving Cookie and Hakeem. Different dynamics and all round much more fun together.
Whitney: I agree with Carissa here. Jamal definitely needs Cookie more than Hakeem, but I am loving the Cookie/Hakeem dynamic. Hakeem has needed a mother in his life and Cookie has really slid in seamlessly. I just hope the maturity Hakeem has shown at times will continue when he finds out Cookie and Jamal have been working behind his back. 
Prediction time! Cookie and Delgado are getting pretty hot and heavy. Where do you see this storyline going?
Carissa: I see Cookie calling in Lucious for a favor and Delgado being very, very sorry he ever toyed with Cookie Lyon.
Paul: Carissa LOL. I do see something similar on the horizon, but as long as there's plenty more steamy scenes before he goes the way of Bunky.
Whitney: I really like Adam Rodriguez, and I love his chemistry with Taraji P. Henson, so it really sucks that he's eventually going to get his butt handed to him by the Lyon men. You just don't mess with Mama Lyon. 
Whitney Evans is a staff writer for TV Fanatic. Follow her on Twitter.