We are not discussing the ick fest that was Shelby having an affair with Caleb's dad.
On Quantico Season 1 Episode 6, the focus was definitely on the melodramatic relationships rather than the actual exciting conspiracies at hand. It was way too much romantic nonsense for my taste. I watch for the conspiracy, not the romance.
Am I alone in this?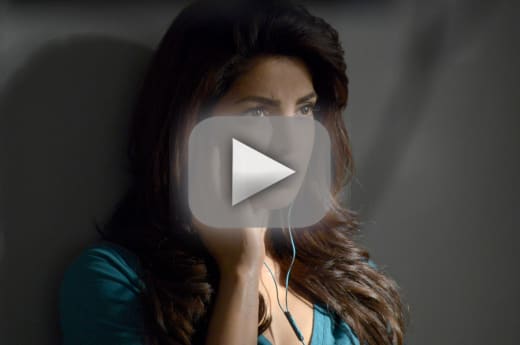 You could not escape the relationship drama. Between the blooming romances and the doomed ones, the relationships were front and center. I'm not saying there shouldn't be romance in the show or anything. I just think they should remain on the side or at least be a way to uncover a secret or something.
For instance, Simon and Raina's relationship led to Simon uncovering the twins' secret. Eventually, someone needed to discover what was really going on, and Simon was a believable way for this to happen. Do you think Simon learning about Nimah and Raina is what gets him kicked out of Quantico?
But all the other relationships were a waste of time. I almost felt like I was watching another show. If we had just dialed back the relationships a touch, like maybe cut out one couple's storyline, then it would have been a little bit easier to swallow. 
So Caleb's now a Federal Agent on the D2 unit (the surveillance people. I forgot what the D2 stands for, I am only human). Somehow, Caleb went from analyst to the "fastest rising agent" in the FBI. This was definitely surprising, to say the least, but Caleb did show he had a knack for the tech side of things. 
Nimah or Raina was at Grand Central two days before the bomb went off. It's hard to decide what to make of this. They were the obvious choice as to who was behind framing Alex, so it would be nice if it wasn't them. Also, what if they just happen to live in New York? Grand Central is a major hub, so they could have just been getting to work. 
There are a ton of mysteries surrounding all the characters, and yet we don't have a lot of answers. The ones that are hinted at in the post-bombing storyline at least have the promise of being revealed somewhat soon back during training at Quantico, but there are so many mysteries that pop up at Quantico that haven't even been addressed.
We'll never know why the people we watch do what they do.

Miranda
We get bombshell moments like Shelby wiring money or Caleb sending that email as Mark Raymond, but then episodes go by, and it's never mentioned again. You almost start to forget that it even happened. 
There needs to be more follow through with these teases. Either continue to reference the shady-ness every other episode or freaking provide some answers. We're at the point where there are too many questions to keep track of. 
At least someone figured out Ryan is helping Alex evade the FBI. We were getting to the point of it being odd that no one was overhearing Simon or Ryan on the phone with Alex. Simon and Shelby seem to slip away quite a bit to be with Alex, and you would think that someone would be monitoring the people who have actually been in contact with Alex at one point or another. I guess the FBI isn't all that smart.
Natalie caught Ryan in a lie in a way that makes sense, and while it was smart that Ryan had Alex's number listed as someone else, he probably shouldn't have picked Liam. They are in the same place for most of the day, so it would be easy for someone to see Liam not actually talking to Ryan on the phone, like Natalie did. As much as I don't like her, you have to admit that Natalie is somewhat good at her job.
I'll be on the move in 20 minutes, but you can start panicking now.

Miranda
I'm finding it really hard to like Miranda. She went way too far by having the NATS surveil her as a way for her to find out more about her son. Of course, she didn't actually find out anything, so it was kind of a waste of time.
Actually, that's a perfect way to describe all of the Miranda drama. A waste of time. It's boring. I don't care that you don't trust your son and that he got mixed up with shady people. I'd rather follow Alex as she tries to clear her name or spend time actually figuring out one of the dozens secrets that people have at Quantico.
The only good thing to come out of this mission was that Alex found out about Liam. We're making progress. Now, Alex is watching him, which will hopefully provide some answers. Do you think Alex was smart to surveil Liam on her own or should she have gone to Miranda?
What did you think of the episode? Did you enjoy the time spent with Miranda and her son? Should we be suspicious of Nimah and Raina? Any theories on how Caleb went from analyst to agent? Leave me your conspiracy theories in a comment below.
Remember you can watch Quantico online anytime via TV Fanatic.