Supergirl Season 1 Episode 4 Review: Livewire

Stacy Glanzman at . Updated at .
It's Thanksgiving a week early on Supergirl Season 1 Episode 4!
Okay, so that wasn't the episode that was actually supposed to air tonight, but I can't fault CBS for making the respectful decision to shuffle the order around. 
Luckily, it really didn't feel like we missed much.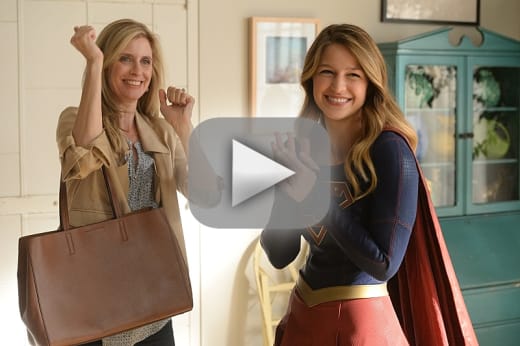 Really, the only thing we missed was James and Lucy getting back together, and by the way things were going at the end of Supergirl Season 1 Episode 3, I think we all knew that's where they were headed. 
It looks like we'll be getting the missed episode, "How Does She Do It" as Supergirl Season 1 Episode 5 instead, and I'm actually a little disappointed. 
Of course I want to see it, but after the ending we just saw, I can't wait to see what happens next!
We knew Hank was hiding something, and we still don't know what the glowy red eyes are all about, but we did learn something pretty fascinating about him. 
He's been in the girls' lives a lot longer than we realized. Alex's dad/Kara's foster dad even volunteered himself to the DEO in order to protect Kara. 
Now Alex is on a mission to find out what really happened to him, and I have a feeling it's going to be an exciting reveal. 
It's actually going to feel a little weird to go backwards next week and see the scenes that led to James and Lucy reuniting. 
They may be back together, but that's not stopping James from calling Kara on Thanksgiving and admitting he's a little bored. I think James is going to realize he needs a little more excitement in his life. 
But seriously, poor Winn! It's really hard not to feel bad for the guy. The second James walks in a room he's cast aside. 
I really loved all the flashbacks of Kara and Alex as kids. It totally makes sense that Kara would convince Alex to go flying. She has all these fun powers and kids don't exactly have the best impulse control. It would be hard to believe she never played with them.
The dynamic between the sisters and Eliza was also really interesting. Alex has always felt this immense pressure to protect Kara, but never got the credit she deserves for doing just that. 
I'm glad that this show recognizes that Alex is just as much a hero as Kara is. 
Kara risks her life to protect other people and she is a hero, and yet I do the same and I'm in trouble? That is perfect.

Alex
I loved the parallels drawn between Cat's relationship with her mother and Alex's. While they have both accomplished so much, they both have a hard time believing it because of their mothers' opinions. 
Now we know why Cat is such a hard-ass and pushes everyone so much. The writers are slowly fleshing out her character and allowing us to see a more human side of her. 
She's not as self-involved as we thought she was, and she actually does truly care about people, even if she doesn't have a clue who Winn is. 
She takes responsibility for what happened to Leslie, and she wants to make an effort to really get to know Kara, so that's a pretty good start. 
She even put her own life at risk to help Supergirl defeat Leslie without killing her. 
Four episodes in (though technically this was supposed to be the fifth), I am impressed by the way the writers have developed the characters and provided back story without sacrificing any action or humor. 
I'm completely invested and in it for the long haul. Are you? 
If you missed anything, you can watch Supergirl online any time! 
Stacy Glanzman was a staff writer for TV Fanatic. She retired in March, 2019.