Now and Forever.
Those were literally the titles of Haven Season 5 Episode 25 and Haven Season 5 Episode 26, and while they weren't exactly the best the series had to offer, they weren't the worst, either, and provided a rather fitting conclusion to the show.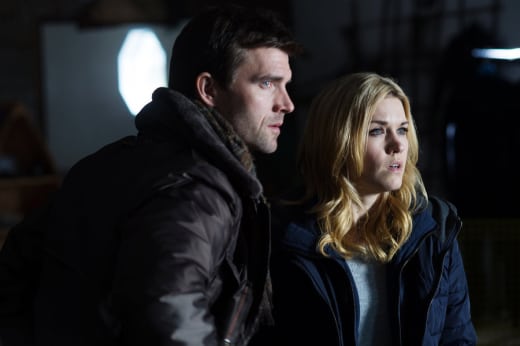 The first hour started to drag a bit, and to be honest, Duke's death was welcome. It was unnecessary for him to return in the final hour, but as he was a central character and once had a lot of purpose, it made sense to give him some good final moments rather than the Croatoan arc he had to suffer through to die.
As expected, Duke died a hero. 
As Croatoan's pawn, he was rather insufferable, so it was a good save getting him back. Begging to have his life taken so Croatoan couldn't have the Troubles was, as noted, heroic. It also made Nathan a killer, but I suppose if Duke had to die, it made sense that someone else should pay the price as well.
The death scene itself was really well done. It wasn't quick and painless for any involved, and that's the mark of a death well done in my book. He struggled to die, looking into Audrey's eyes, and true to the prophecy, the last thing he saw was Nathan's Guard tattoo. Little tie-ins like that mean a lot to long time viewers.
Dwight was struggling with the reality of his daughter, Lizzie. She was about as real as she could get, even recalling a game they played with cookies and why they played it. 
To his credit, he was willing to let her go for the greater good, as hard as that would have been, knowing fully well she was a creation and nothing more. Yet Dead Duke's return was as some sort of Christmas spirit (seriously, I don't know understand Dead Duke's true point), and essentially he said if Dwight really believed Lizzie was his daughter, she would remain even after all other things Troubled disappeared for good. He was right.
Croatoan tried trickery (duh) to turn the tide in his favor many times, but in the end, he had to give into the fact that good outweighed evil. Imagine William Shatner shaking his fist at the sky and saying dagnabbit; that's all that was really missing from his portrayal.
He forced Nathan out of town with Fauxdrey, but both players in that charade knew something was amiss and returned. That was probably Emily Rose's best performance in a long time, as Fauxdrey. She always did better as a character with a little spirit in her, something Audrey lost when Mara disappeared. 
Vince as the controller didn't have victory without Croatoan, and apparently both of them were needed to fully power the Barn in the end. Well, no, three of them, including Audrey, were needed to get the whole thing off the ground and for it to implode, but somehow, a month after the fact, Audrey was able to be sent back to start over again.
Despite how confusing that is, since she was supposed to leave forever more never to return in order for the whole thing to work, I'm rolling with it. PANCAKES! Baby James. Was it their baby? Who knows? Brokedown Paige was most certainly Audrey, and apparently Croatoan and Vince will spend eternity in the Barn watching over Haven.
The End.
I'm sure if I took the time to poke around, there would be a lot of loose ends, but why would I do that at this point in the game? Everyone who has been a player for the last season got an ending. Even Jennifer got a mention, as Duke was given a burial at sea with her. Laverne made her first physical appearance on the finale. 
There was a sweet (if ridiculously short) montage of Nathan and Audrey scenes when he came back through the fog and remembered the real Audrey again. Given the rich history of the show, there could have been more cameos, but Jason Priestly appeared, so high five, brotha!
I'll likely give the earlier seasons another couple of watches as the years go by. The theme song remains one of my all time favorites and still makes me happy to hear it. Haven may have petered out at the end, but I have no regrets spending my time with the folks in this small town. They became like a little weird family. 
What did you think of the finale? If you missed either of the hours, you can watch Haven online right here via TV Fanatic. Thanks for riding along with me!
Carissa Pavlica is the managing editor and a staff writer and critic for TV Fanatic. She's a member of the Critic's Choice Association, enjoys mentoring writers, conversing with cats, and passionately discussing the nuances of television and film with anyone who will listen. Follow her on Twitter and email her here at TV Fanatic.