The Freddie saga has come to an end. 
Chicago Fire Season 4 Episode 12 provided closure to Herrmann and Cruz, and now they can both move on from the stabbing. 
The meeting between Herrmann and Freddie's father could have gone a number of ways, but his honesty and sincerity struck home for Herrmann, and he realized that Freddie was truly sorry for what he did.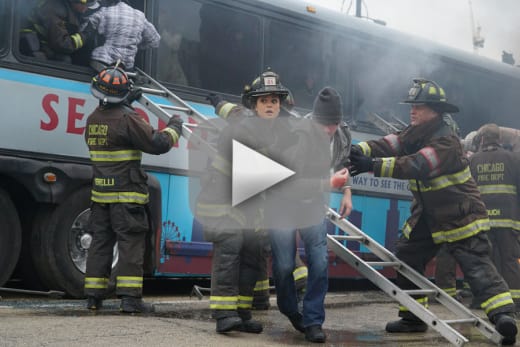 This story line began with Cruz setting out to help Freddie, and, in the end, he did. Now Freddie will get the counseling that he needs and hopefully learn from his mistakes.
His father said that Freddie wasn't worried about prison, but that he couldn't live with knowing that he hurt someone who tried to help him. Now Herrmann has helped him again, and this time I don't think he will take that lightly.
Now it's Chili's turn to decide what she's going to do now that she's been given another chance. 
It seemed like she was taking steps in the right direction by finally addressing her feelings to Dawson and Brett, but seeing her at Molly's implies that she's not ready to really deal with her grief yet. 
Dawson: We're just worried about you. That's all.
Chili: Yeah, you got a hell of a way of showing it.
Dawson and Brett are trying their hardest to be there for her, whether she sees that or not. 
I have to say, I was not expecting her to pull out that baton to save Brett. For a second I thought she was going to inject him with a sedative or something. It could have been her third strike, but Brett obviously wasn't going to rat on her after she saved her. 
But, it does beg the question, is Chili's third strike coming?
I know she's not everyone's favorite character, and she's not mine either, but I liked her before all of this recent drama started. Plus, there has been so much turnover on this ambulance that I would prefer she figure her crap out before she gets fired. 
As we all expected, Severide is sleeping with Agent Ward. I'm honestly not really sure where that's going anymore, other than I could see that affidavit coming back to bite him in the ass. 
Mouch: Monogamy, ever consider it?
Severide: Not really.
What do you guys think? Is this bomb going to lead anywhere, or was it just an excuse to give Severide a new love interest? 
Her wanting to keep the relationship a secret is a little suspicious. Is she hiding something from him?
I didn't realize the tornado was going to set us up for a potentially multi-episode arc. We've seen Casey deal with corruption before, and there is no way he is going to let this one go. He will find that money and expose the Alderman for the crook he most likely is.
Also, for not having anything prepared, Casey's speech was pretty darn good. 
He also did a great job of connecting with that kid who lost his father. Grief, and dealing with it, was a big theme of the night. Casey finding that boy and being able to relate to him made a big difference. 
Dawson tried the same thing with Chili, because we all know that she's been there after the loss of Shay. The jury is still out on whether she really got through to her. 
Turns out Brett really liked Otis' mustache. Dawson has since been fired from helping him. I am still hoping this is not going to lead to Otis and Brett dating. 
So are you guys glad to see the Freddie story line put to rest? Are you ready to see Casey go to war with the Alderman? 
Don't forget, you can watch Chicago Fire online any time!
Stacy Glanzman is a staff writer for TV Fanatic. Follow her on Twitter.