Galavant Season Premiere Review: Hits All The Right Notes
Meg Bonney at . Updated at . Comments
Hear ye, hear ye! Galavant is back!
Galavant Season 2 Episode 1 packed the funny and the jabs at itself in the big opening number, "New Season." I loved the original song that Galavant sang last season, but this new group number had a Brady Bunch style grouping with all of the main characters.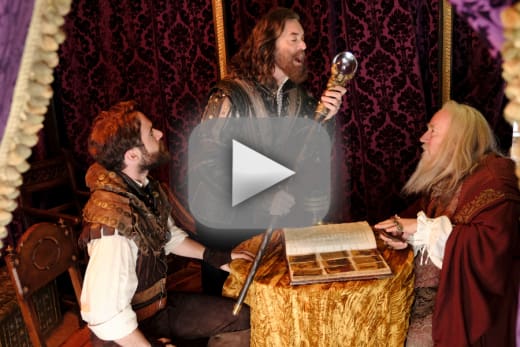 In the song, "New Season," the show mocked it's short season, it's low ratings and listed everything else you might be watching on a Sunday night, which worked because a show like this shouldn't take itself too seriously. You can never go wrong with dancing pirates. 
I liked how this season shook up the character groupings a bit. Richard with Galavant, Chef with Isabella and Gareth with Madalena and Sid. If you missed it, watch Galavant online to see what I mean. The pairing of Galavant and King Richard was particularly entertaining. Richard really wants them to be best buddies and Galavant is just sort of tolerating him at this point.
The best part of the back-to-back episode premiere was when Galavant and King Richard ended up in the all male disco pub called Enchanted Forest. Learning that Richard thought his Dad's camping buddy, "Uncle Keith," was just a friend when it was so clear that he was actually his Dad's boyfriend reminded us how naive Richard is and just how lost he is without Gareth.  
King Richard: Uncle Keith! Dad said you went to the Enchanted Forest and never came out!
Uncle Keith: Other way around kid.
The Queen of Enchanted Forest pub had a great disco song when she ordered "Off With His Shirt" to the crowd of eager gentleman as they all seductively eyed Galavant. I really hope we get to see more of her, Bear and the Enchanted Forest this season.
All of the men being disappointed when Galavant announced that he was off to save his true love because SHE needed him was funny, but even funnier because the wide-eyed Richard didn't understand what was happening. Even with his childish ways, Richard stepped up and helped Galavant and himself escape which showed that he really is a good guy. 
I agree with all of the characters that Isabella getting married to her 11-year-old cousin is super gross. The interactions between the chef and Isabella were on point. The first time was when she asked him to help her escape and he started talking about White Walkers made me chuckle.
Then in Galavant Season 2 Episode 2, when the chef goes to her room and Isabella gives him the amulet that she hasn't ever worn but insists she always does, she falls asleep before giving it to him. When she wakes up, he is pissed. The chef is a smaller character but he is consistently funny in every scene.
You never handed me the f#cking amulet!

Chef
Last season, I didn't really care about Madalena and her pouty stares, but this season, her paired up with another strong character like Gareth is fun to watch. The only thing they could agree on was that they found Sid annoying, so they threw him out the window. I liked that she made the villagers who were bickering over the chicken watch her eat the chicken. 
The best character is King Richard, the virgin. He reminds me so much of the King from the animated Robin Hood movie. Hopefully they keep him paired with Galavant and we get to see more of their bromance. Galavant and Isabella spent their time worried that their kiss was bad, which it was. I am sure they will get the chance to make it right, even though Isabella though that Galavant called her a cow. If these two can't make it work, the Jester and Isabella would be interesting new couple. 
The first episode was stronger, but both were entertaining. What did you think about the premieres? Hit the comments and share your thoughts!
If you missed these episodes, you can watch Galavant online to get caught up for more toe tappers. Fair thee well! 
Meg Bonney is a staff writer for TV Fanatic. Follow her on Twitter.