Never make Elizabeth angry!
On Madam Secretary Season 2 Episode 11, Elizabeth had to juggle the crisis in Russia while also trying to deal with a life threatening situation on the space station. It seemed like Elizabeth was against the wall the entire hour.
Let's not waste anymore time and discuss "Unity Node."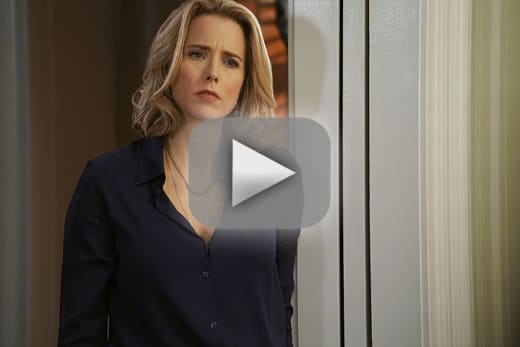 Thank goodness President Dalton let Elizabeth stay behind in Geneva. If she had left after Maria's car was blown up, she knew the peace deal would quickly fall through. Elizabeth had put so much into the peace treaty and to have it disappear would have been a punch to the gut.
Speaking of Maria's car blowing up, was anyone really surprised to learn people from Ukraine were involved? This is something they should have foreseen happening. It hasn't been a secret the Ukraine really hates Russia, and vice versa, of course their people would retaliate.
While I do appreciate Elizabeth standing her ground with the Russian general, I also saw where he was coming from. Their President was assassinated. Why wouldn't they want to take revenge on the Ukraine? I understood Elizabeth wanting to keep the peace, but I couldn't fault the Russian government for being angry.
I don't think Elizabeth was in the wrong for thinking the President of Ukraine had something to do with the assassination. He was crazy enough to hack into Air Force One and assassinating Maria wouldn't be completely out of character. So it didn't come as a huge shock when Ukraine refused to give over Oleg. 
I enjoyed how Elizabeth used President Dalton's words to attempt to keep peace with Russia. It was a smart move on their part to speak to the heart of the matter instead of focusing on all of the bad. There is no more need for bloodshed. 
Moving on to Henry, did he really think Talia would go to the United States so easily? It was made clear Talia and Dmitri had a special bond – she wasn't going to leave without knowing where he was. I did love how strong Talia was and her willingness not to hide from Russia.
Of course the most heartbreaking moment came when Henry realized Dmitri had been killed. I've said it before, and I'll say it again, Dmitri deserved better. He never wanted any part of this, but was persuaded by the chance to give his sister a longer life. It's a shame his young life was taken away. 
I did understand Henry's coldness towards Elizabeth. He couldn't get past the fact they could have saved Dmitri. Henry knows he failed Dmitri and this is going to weight on him for a very long time. He did make the right decision in leaving the NSA. Henry had too much of a conscience to be a handler. 
In the end, Henry and Elizabeth were finally able to have a conversation with each other. I really do love Henry and Elizabeth as a couple because they actually discuss their feelings. I can always rely on Henry and Elizabeth being diplomatic when it comes to various conflicts – even if they don't agree on said conflicts.
Don't feel bad if you missed out! You can watch Madam Secretary online anytime via TV Fanatic. Just make sure to come back to let us know what you think.
Samantha McAllister was a staff writer for TV Fanatic. She retired in November 2018.