Bitten Season 3 Episode 1 Review: Family, Of Sorts
Carissa Pavlica at . Updated at .
Do Elena's bloody visions of Stonehaven have to mean an unhappy ending for all involved?
That's what I've been left wondering after watching Bitten Season 3 Episode 1, in which we started out learning Elena's visions will come true, and there's nothing she can do to stop them.
It's hardly surprising given the violent nature of bring the pack together. Jeremy is on a mission. All mutts will be a part of the pack – or they'll cease to exist.
Unfortunately for Clay, it's at his hands that all of the suffering is served.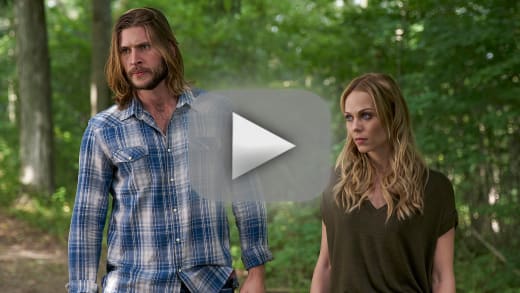 Jeremy has been down this road before, but he's never seemed quite as cold as he is right now. 
In the past, it seemed like he allowed those he loved to have more input into his decisions. That time has passed. When the Spanish wolf was found, Clay had to torture him. And kill him. That was his mandate. 
Clay didn't want to do either, and managed to put off the latter, which was about as light as the sentence would get from Jeremy. Elena hates everything Jeremy is making them do, but she's also wise enough to know how much Clay is suffering at the hands of Jeremy, and she's there to support him in any way she can.
The torture scene really turned up the heat though, and we've been through a lot of them in two seasons. This one was pretty crazy. If that's the mindset of Jeremy, how long can Elena, Clay and Nick stand by him?
Nick lost a life-long friend, one he knew since he was a boy. Joey took a bullet for Jeremy. There is only pain at Stonehaven, and the lighthearted moments we've come to know seem to be missing. Everyone is walking on eggshells.
Is anyone else surprised Rachel is, as much as can be, a part of the pack family? Jeremy knows she's alive and well raising a wolf. That's essentially unheard of. 
Nick appears to be in charge of her well-being, but Elena isn't allowed to go see her. That she's a part of the family at all is unexpected; will Jeremy want Rachel killed when the baby is old enough to be weaned away from her? 
We've never known a lot about Elena's family, who were killed when she was young. Now there is a family, part wolf no less, who claim to be Elena's. Is Sasha Antonov Elena's father? And if so, where has he been and why is he coming around now?
If Elena discovers she has another, blood family out there, what will it mean for her ties with Jeremy? A year ago, I wouldn't have questioned that, but given his new dictatorship built on a reign of terror, it could mean she'll be more interested in what the man has to say.
Watching Clay slowly fall apart while he rips apart others will be something Elena wants to detach from, and a new family might be a part of that.
And let's note her vision again. Did you see her on one of the Alpha chairs? There are two in the room. She was on the main one. Maybe Clay will be in the other and they'll rule as a couple. What could possibly usher in a new generation of wolves with a female wolf than a ruling couple for a new type of pack, a real family?
Maybe all of this will have meaning far beyond what anyone knew when it all started.
I'm willing to go there. What about you? Are you sorry to see Bitten coming to an end? I'll have an interview with Greyston Holt (Clay) before the next episode, so keep an eye on TV Fanatic!
Remember, you can watch Bitten online anytime to catch up on all the latest!
Carissa Pavlica is the managing editor and a staff writer for TV Fanatic. She's a member of the Critic's Choice Association, enjoys mentoring writers, cats, and passionately discussing the nuances of television and film. Follow her on Twitter and email her here at TV Fanatic.