Things got pretty scary for our firefighters as they navigated their way out of a building under attack on Chicago Fire Season 4 Episode 13. Thankfully, everyone made it out alive. 
Below, TV Fanatics Elizabeth Harlow and Stacy Glanzman are joined by super fan Honey to discuss the shooting, Chili's last chance, and the first annual "Battle of the Badges." 
Join us!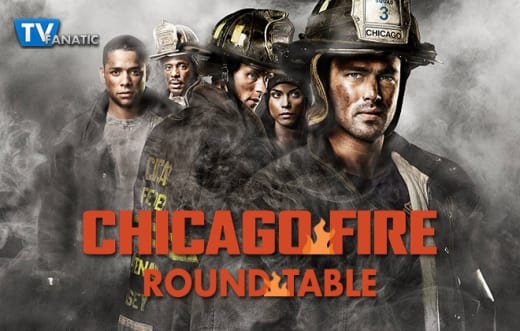 What did you think of the active shooters story line?
Honey: Well I could have done without four people getting killed and seven injured. I was actually waiting for the killer to walk up behind the couch and shoot one of the girls, not that I wanted that to happen, but that was what I was waiting for.
Elizabeth: Well, my first thought was how relieved I was that nothing happened in the world to cause a schedule disruption. I thought it was an interesting storyline for fire to tackle, although not wholly unexpected considering Kelly's recent playmate. I was surprised that it wasn't saved for some kind of crossover event.
Stacy: It was intense, but shorter than I expected. I thought more of the episode would revolve around that. Still, I thought it was done well.
Will Casey's pursuit of the alderman end up hurting the house?
Honey: He might try to hurt the house, but I think the new Captain might just have a few aces up his sleeve with this one. He seemed like he wanted to invest his time with the house.
Elizabeth: Threats to the house or to Gabby are the only things that could get Casey to drop something like this. I'm wondering if this is leading to a back-door pilot for Chicago Law.
Stacy: I hope there doesn't end up being backlash against the house as a result of Casey going after him, but exposing the truth will not be easy, and probably not without consequences of some kind.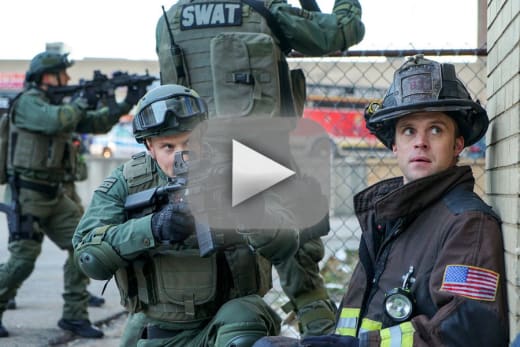 On a scale of 1 to 10, how fed up are you with Chili? Does she deserve one more chance?
Honey: I would say maybe a 3. Okay I was kinda over the Chili story line, until I found out that her sister had been murdered. At this point, she needs to seek help for her problem, which now I am pretty sure it is mostly alcohol. But there could be drugs involved also. I think that her problem stems from family. I would give her one more chance, but on the condition that she seeks help for her problem. And if she is not willing to do so, then I would make it mandatory for her to keep her job.
Elizabeth: There's been a meme going around on Facebook recently, "The best apology is changed behavior." As long as she doesn't relapse yet again, I'll stick with this story. But going back and forth is tiresome.
Stacy: I was teetering towards 10 when she was trying to get Brett fired, but by the end I came down a little. I'm still over this story line though, and she needs to start getting her act together now. I honestly don't know that she really deserves another chance, but she's getting it, so she better not screw it up.
Will you miss Agent Ward?
Honey: Nope, she needs to take her ass to Miami and stay there, and let Kelly get back to April, I hope, hope, hope. They make a good pair in my opinion.
Elizabeth: No. There was nothing really objectionable to her, but nothing memorable either. Just another in the long line of women who Kelly Severide screwed.
Stacy: I really thought she was hiding something and was going to turn out to be bad news, so I was pleasantly surprised to see that she genuinely cared for him. I mostly feel bad for him that she seems to be a good one and she's leaving.
Who will win the Battle of the Badges?
Honey: That is hard to say. We know that Jimmy will be the fighter for 51, but who will they choose to be the fighter from 21? I would think Atwater. If that is the case, then Jimmy wouldn't stand a chance.
Elizabeth: I'd like to see Jimmy replaced with Gabby, but that doesn't seem likely. I think it's really a toss-up who will come out on top. I was excited that Antonio's gym finally got used as an alternative hangout spot to Molly's though.
Stacy: I would say that Jimmy doesn't stand a chance against Antonio, but with Gabby as his teacher, she'll be able to expose all of his weaknesses and get into his head. So, I'm giving Jimmy the edge.
Stacy Glanzman was a staff writer for TV Fanatic. She retired in March, 2019.