Chicago Fire Season 4 Episode 13 Review: The Sky Is Falling

Stacy Glanzman at . Updated at .
Nothing like a near death experience to mend fences between co-workers, right?
Who else was thinking that maybe it should have been Brett and Chili in the boxing ring on Chicago Fire Season 4 Episode 13?
A lot went down, giving us plenty to discuss, so let's get right to it!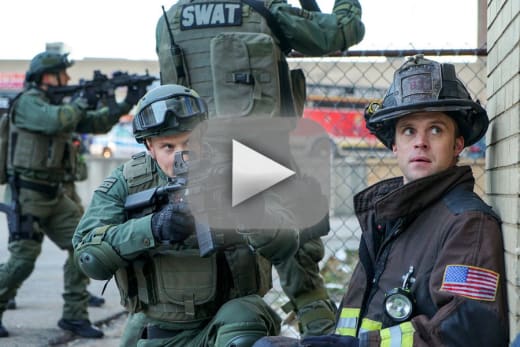 The active shooters storyline was terrifying, and so much of it had very little dialogue, ramping up the intensity even more. 
Squad totally should have tried using the fire hose on the guy on the roof. I have no idea if it would reach that far, but that would have been awesome if it did.
Obviously I assumed all the major characters would make it out alive, but I wondered if anyone would suffer an injury. I'm glad it didn't happen, because I'm not sure 51 could handle another member down so soon after Herrmann's serious stab wound. 
Instead the injury went to Agent Ward, and it looks like maybe we were wrong about her. She seems genuinely interested in Severide, and now I'm sad to see her go. Severide just can't catch a break in the romance department.
But I suppose this leaves the door open for him to pursue a relationship with April from Chicago Med. 
They say you have to hit rock bottom before you can start to heal, so here's hoping we're finally there with Chili. I don't think she can go much lower than trying to get Brett fired. It's time for her to get the help she needs so we can all move on from this.
Chili calling Brett a subordinate and asking the Chief for his support was reminiscent of Patterson versus Severide, and we all saw how that played out. She should have known she was not going to win that battle. Boden was not going to be bullied into giving her what she wanted.
But as I said before, near death experiences have a way of making people question their lives, and luckily it had that affect on Chili. 
I don't expect for you to forgive me. I just wanted to tell you that you were right. Do you know what it's like to be doing insane things and not really know where it's coming from?

Chili
I'm still not sure I was wrong about my guess that she could be suffering from a mental illness. It sounds like the alcoholism could be a symptom of a bigger issue. Regardless, she has finally admitted she needs help, and that's the first step to recovery. 
As suspected, Casey is relentlessly pursuing Alderman Becks, even going as far as threatening to expose him to the press. Will he make good on his threat? That dinner didn't go well, and we all know Casey isn't about to head to the lake, so my guess is yes. 
He's not going to let it go, and he is not going to take the attempted bribe lightly. He asked Dawson about getting Antonio involved, and I wonder if Intelligence will eventually investigate. 
Dawson also warned him about the potential ramifications of going after a city alderman. Will the house receive the backlash from this? 
Thank goodness for comic relief! 
I personally can't wait for Platt and Mouch's "Battle of the Badges." The main event hasn't happened yet, but the preparation for it has already been hilarious. 
Herrmann training Jimmy was great, but he may want to invest in a couple of boxing mitts instead of wasting good meat. 
Plus, Dawson took a swing and nailed Herrmann in the face. How great was that? She is obviously going to be the better teacher for Jimmy. 
Platt and Mouch did a great thing donating the money to the shooting victims, but they're back at square one for financing their wedding now. Will the dream wedding happen, or will they do something smaller or even elope?
I think somehow their wedding is going to come together, especially after hearing Boden's wonderful words of wisdom: 
See that? There's always hope. As long as there are good people in this world willing to step up and lend a hand. Here's to the victims. Here's to hope.

Boden
These two deserve their dream wedding, and I want to see them get it. 
Your turn, were you worried about any of our beloved characters? Are you excited that someone is actually using Antonio's boxing gym?
Don't forget, you can watch Chicago Fire online any time!
Stacy Glanzman was a staff writer for TV Fanatic. She retired in March, 2019.