iZombie Season 2 Episode 14 Review: Eternal Sunshine of the Caffeinated Mind
Meg Bonney at . Updated at .
A coffee shop owner's murder was the perfect case for iZombie Season 2 Episode 14 because it was like an overly caffeinated version of iZombie, and we loved every fast paced moment! 
Usually a great episode is marked by a giant bombshell, but this one had three major reveals, and it was AMAZING!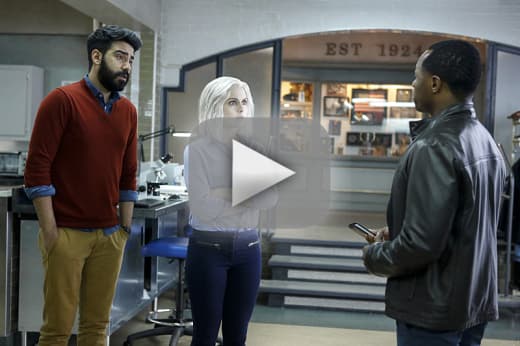 Let's start with Drake! Drake has been flirting with that devilish good/evil line for a while now, and we weren't entirely sure which side of things he fell on. Liv was especially concerned about this too, but now we have our answer! 
After a great cameo by Veronica Mars alum, Enrico Colantoni as Detective Lou, it is revealed that Drake is working undercover! Drake has been working to gain access to Mr.Boss' enterprise so that he can help the vice unit take them down from the inside. 
Liv: I'm optimistic.
Clive: No argument there.
The "awwww" moment came when Drake told Lou that he won't break it off with Liv. It has always been clear that Drake isn't a bad guy, even if he was doing bad guy stuff and now we know why.
Liv's heart has already been through the ringer, so it's nice to know that she is with a good guy. Let's just hope that Mr. Boss doesn't find out about this, or we will have Lowell 2.0 on our hands. 
Blaine is killed by Mr. Boss! I sat in my living room with my mouth hanging open for a good minute, but let's put a pin in that. 
Instead, let's talk about that zombie cure! It is really the least reliable thing going on in this show right now. It cures a rat, it kills a rat and when given to another rat, it turns it into a Walking Dead-level zombie rat. Rob Thomas, always with the rats. 
Science is a marathon, not a sprint!

Ravi
In another twist to the zombie cure fiasco, Blaine comes back to life! (YAY!) I had no idea that he had such pipes, but that boy can sing! At least he could, until Mr. Boss had his throat slit. Blaine bursting through the ground and swiping the Scout group's blanket was great.
What does this mean for Major and Blaine? Maybe he can talk to his boss at Max Rager. They seem to have a really solid grasp on the zombie research. Perhaps it's time that all of the doctors met to chat about this. 
Side note: Mr. Boss is such an interesting, complex character. Any other show would have made him a scheming crazy man or a beefy tough guy, but not iZombie. This big bad may have a simple name, but he is far from it. He is a crime lord who is an accountant by day and used to play D&D. We need to learn more about him, stat. 
Love makes you stupid.

Cher
This brings us to the best moment of the night! Liv, Major and Gilda are in the same room. FINALLY! After all of the horrible girl on girl crime committed by Gilda, Liv has a shot at retaliation, literally. 
As Major leaves, he yells out "goodbye Rita" which triggers Liv to remember the girl that was sending saucy pics to Major when they were together, and I really hope he did this on purpose as a way to warn Liv not to trust her. Major is always slick like that. 
How weird that it took you two this long to finally meet!

Liv
Liv punching Gilda was beyond gratifying to watch. Liv doesn't yet know how Gilda and Major really know each other, but is correct in her deduction that Gilda is a sick bitch. Well done Liv!
You're a sick bitch and I just want you out, now. Because at midnight I'm gonna hunt down anything you left behind and burn it.

Liv
If only this reveal could have waited a few more moments because it seemed like Major was about to tell Liv all about his new zombie killing gig. Although, there was so much going on in the episode, that may have made our brains explode, and nobody wants that. Well, expect the zombies. 
The murder this week was pretty interesting too. It may be the only time we have seen the murderer get away with it! Very well done, on all counts! 
If you need to watch it again to let it soak in, you are not alone! You can watch iZombie online, right here! 
What did you think of the episode? We have much to discuss, so be sure to hit the comments and tell us what you thought!
Meg Bonney is a staff writer for TV Fanatic. Follow her on Twitter.