The Originals Round Table: Will Kol Return?
Paul Dailly at .
This show just gets crazier. 
On The Originals Season 3 Episode 13, Marcel made a huge mistake by taking Jackson's hear, while Freya found herself in a near death situation.
TV Fanatics Miranda Wicker, Amanda Steinmetz and Paul Dailly chat about Hayley's harsh reality for Cami, Jackson's missing heart and whether Klaus will be able to kill Aurora.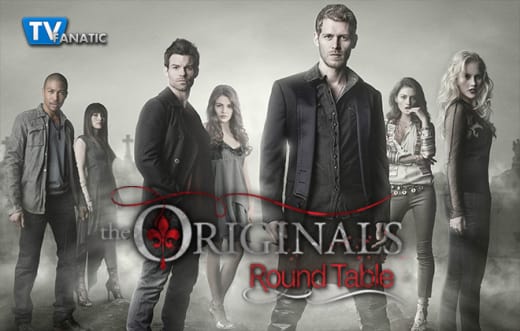 React to Jackson's heart being stolen.

Miranda: To be honest, I was a little shocked that his heart was taken out of his body before it was burned. Not shocked. That's not the right word. Anyway. Marcel better use some of his knowledge of New Orleans to go into hiding once Hayley finds out he's the one who took it. Sure, he was saving HER life, but wow. What a betrayal. 
Amanda: I think Marcel is ultimately going to fully turn on the Strix, but he needs to play the part. I just hope Hayley doesn't rip his throat out when she finds out he's the one who took Jackson's heart.
Paul: I have no idea where that came from, but I think his days are numbered!
Why did Freya think her siblings wouldn't find her?

Miranda: I think Freya has been feeling like a third wheel, at least as far as Klaus is concerned, for quite some time now. He's tolerated her and been sort of nice, but they do like to use her for their witchy woo and babysitting without a lot of sibling kindness in return.  
Amanda: I agree with Miranda. Even at this point I have to remind myself Freya is their sister. We are so used to Rebecca being the sister. Freya must feel like her brothers aren't as loyal to her. It was nice to see her fears were unwarranted. 
Paul: I agree with both Miranda and Amanda. Freya has been a great character, but it's clear she still hasn't full integrated into her family yet.
Are you happy that Hayley knocked some sense into Cami?

Miranda: YES! Hayley was totally right. It's better to know how to defend yourself physically in addition to carrying the dark objects around in her handbag instead of just relying on the ability to pull out and activate the correct dark object. Fight back, girl.  
Amanda: I loved their interactions. Cami needs guidance and not from Klaus. Hayley is the perfect person for Cami to relate to.
Paul: Yes. It was about time. I thought Cami as a vampire would be great, but so far she's be as whiny as Aurora.
Will Klaus really be able to murder Aurora?

Miranda: I want to say yes, but I really just don't think he can do it. I think he's a sentimental old fool sometimes and as much as he wants her dead he lacks the ability to do it himself. I can't imagine it would be easy, but still. Someone needs to kill her. Fast. 
Amanda: I sure hope so! Aurora needs to go and never come back. I actually really want Cami to be the one to do it though.
Paul: I honestly don't think he could. Like Miranda said, Klaus is a very sentimental man and I just don't see him being able to end her.
Will Kol ever make it back to the land of the living?

Miranda: I really hope so. I don't think I appreciated Nathaniel Buzolic in the role before now. Prior to this he's always just been an arrogant ass doing Klaus' bidding. Now he seems softer and more relatable. There's a chance to open up a new line of storytelling here. Let's bring him back. 
Amanda: I want him to, but mostly because I'm tried of this story line. He either needs to officially come back or be gone for good. 
Paul: I want him to. He's always been a favorite of mine, so it would be great to see him on a more regular basis.
Which villain is grating on your nerves the most?
Miranda: AURORA. Please for the love just KILL HER ALREADY. 
Amanda: AYA. I really can't stand her.
Paul: Aya. At least Aurora has a sense of humor. Aya is just soooo freaking annoying.
Remember you can watch The Originals online, right here on TV Fanatic. Get caught up now!
Paul Dailly is the Associate Editor for TV Fanatic. Follow him on X.