Vinyl Season 1 Episode 1 Review: Record Man

Carissa Pavlica at . Updated at .
Richie Finestra has always had a good ear. Way back in the '50s, before cynicism and blow took over, before he met Lester Grimes and became a manager.
A lot has happened since then, and we've brushed through the very basics of it on Vinyl Season 1 Episode 1. We learned enough in the two-hour premiere to know Richie has probably seen happier times, that he's a little jaded.
On the cusp of selling his record company, American Century, Richie is coming to the realization that he's lost the passion he once had for the music. He's tossed it aside for success and fortune.
He had that once. He can have the latter again if he sells everything he worked for (and lost) to Polygram. His partners and his wife are counting on him. His employees, not so much.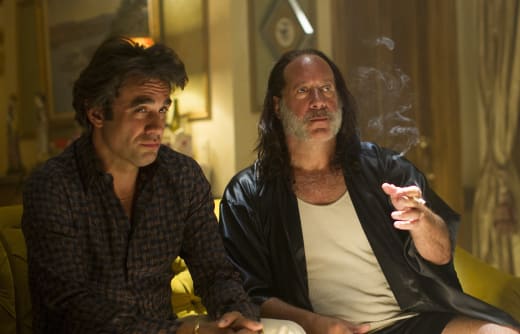 Bobby Cannavale is Richie Finestra. Proving yet again there isn't a high strung, emotionally charged character he can't embody, Cannavale breathes life into Vinyl with his portrayal of Finestra, who is in practically every scene of the pilot. 
This is definitely the audience's chance to connect with Finestra, and if that fails, the entire show fails. Thankfully, that's not an issue.
We have two hours to dig into Finestra's life. Through minimal voiceovers and some flashbacks, we discover Finestra worked his was up through the music business. While he didn't have a talent for music, he had an ear for it.
His first connection was with a blues artist named Lester Grimes (Ato Essandoh), a man whose talent he was so taken with he made him his first client. The door was opened with Grimes aka Little Jimmy Little.
Through twists of fate, we learned not only was Richie not able to take Grimes with him to his first record label as he wished, but it was seeing him again in the present that made him really question if he was making the right decision to sell American Century.
Finestra's full partners in the label, Zak (Ray Romano) and Skip (J.C. Fontaine) are little more than comedic foils during the pilot, but will be fleshed out a bit more as the season progresses, as will Richie's wife, Devon (Olivia Wilde). For the premiere, the characters who have the most depth are Jamie (Juno Temple) and Buck Rogers (Andew Dice Clay).
It's through Jamie that we see the magical side of the business, the rough and raw desire to jump right into the music and bring it to life so everyone can hear what you do. That new, crazy sound that will make people talk, turn their heads and listen.
I thought the scene when the A&R team was eating lunch, laughing about which band was cool, who did what for how long to hook which act and how they didn't care if they lost ABBA to another label when Richie knew they would be selling out stadiums said a lot about where the company was at that moment.
Richie may have lost his way, but he wasn't guiding anyone else, either. Their roster was a mess with artists that had no points of intersection. When a radio conglomerate wanted to ban their label because of Donnie Osmond, it meant even the Led Zeppelins of the roster would be banned.
It made no logistical sense, but brilliantly set up most a lot of Richie's personal dilemmas, including how he got caught up in killing Buck Rogers. 
I remember when Andrew Dice Clay was just a loud mouth comedian. I'd never have imagined him being able to really act. He did a great job in the movie Blue Jasmine, and here he was amazing. I forgot who he was. 
His portrayal of Buck Rogers was the kind of role that could earn him a supporting or guest acting nomination Emmy award. His role was small, but pivotal for the setup of Vinyl, and what he did with it was pretty amazing.
The end result of the pilot was that Richie Finestra slowly began to unwind. He started drinking. He helped kill someone. He was wondering where his passion for the music had gone. It became clear he was doubting his decision to sell out.
Through it all was the music. While the first band up for consideration at American Century is the Nasty Bitz (featuring Mick Jagger's son, James as Kip), most of the music on the table is the real deal. 
A sticking point for the Polygram deal is a contract with Led Zeppelin, and when Richie visits them during a concert, chatting with Robert Plant backstage, a tear flows down his cheek while he watches their performance.
Donnie Osmond is at the center of the Buck Rogers debacle. They talk about Abba, England Dan and John Ford Coley, Robert Goulet and more, some of which will make appearances later in the season.
Vinyl won't skimp on the historical aspects, one of which was the Mercer Arts Center crashing to the ground, which really happened, although not in quite way it did on Vinyl. The New York Dolls were not playing at the time, although it was their venue.
There was a time when it took a lot more to bring music to the masses than an iPhone and a YouTube clip. It was a business. Real talent was needed and someone had to believe in your talent. From there, you had to be signed, the record man had to like you and so did the radio guy. On up the line.
Palms were greased along the way, before the audience even got a chance to hear the music. There was less music and fewer places to hear it. It was harder to get ahead. You really had to love the music to make a go of it, and had to be able to stand the bullshit to survive the success. 
I'm not 100% sure where Vinyl is going this season, but I do know the next four hours deliver on the promise made in the premiere by expanding upon the characters introduced and deepening the story. I have little doubt that beyond that it will only continue to get better. 
There have been other stories about the music of this period, but none with this cast, backed by Martin Scorsese, Terence Winter and Mick Jagger. It takes a little bit of time to get going, but once it does, it's worth every note.
Take a look at what's coming in the weeks ahead and drop us a line. What did you think of the premiere?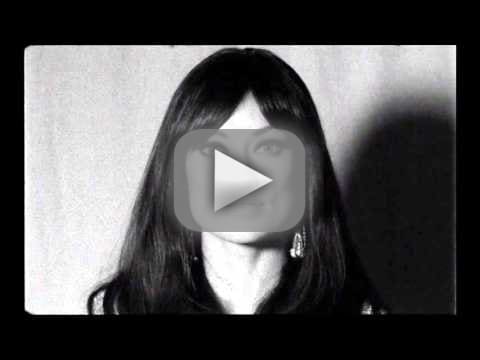 Carissa Pavlica is the managing editor and a staff writer and critic for TV Fanatic. She's a member of the Critic's Choice Association, enjoys mentoring writers, cats, and passionately discussing the nuances of television and film. Follow her on Twitter and email her here at TV Fanatic.