Castle Season 8 Episode 15 Review: Fidelis Ad Mortem

Christine Orlando at . Updated at .
There was a big dose of Badass Beckett in Castle Season 8 Episode 15 but with very little Caskett, was it enough to win back fans?
Not so much.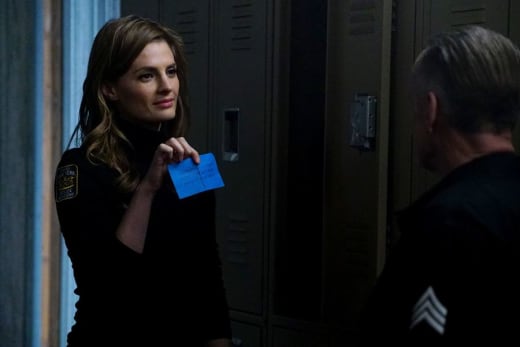 However, we did get one scene concerning the dedication of Martha's book, "Unsolicited Advice," that really did make me laugh. 
Castle: "For Richard - Without your constant stumbles in life the advice in this book would not have been possible." Constant stumbles?
Martha: Let's not make this about you.
Was the dedication a little harsh? A bit, but Martha's response was so dead pan that I can hardly hold it against her. 
I can't say "Fidelis Ad Mortem" wasn't enjoyable, especially after all of the truly bad episodes we've had to wade through during Castle Season 8. 
Watching Beckett kick some butt has always been fun. Watching her take control of an interrogation is even better and seeing her question the recruits was one of the more intriguing scenes. 
However, I found Captain Beckett's tactics in the box with Chambers questionable.
Chambers continually asked for his lawyer and she basically threatened him with harm. I'm not saying that kind of thing doesn't happen but one of the character traits I've always been drawn to in Kate Beckett was her integrity and it felt as though this was another instance of that slipping away. 
When Beckett said, "Every record falls in the end," it felt like foreshadowing for both her character and the show…or perhaps I'm reading far too much into it. 
It was almost amusing hearing Kate tell the recruits that it's important to be in touch with their emotions. I'm sure that was supposed to be some kind of reference to how far she's come, and it might have resonated if it didn't feel as though she's as detached from her own emotions as she's ever been. 
Oddly enough, Hayley came across as more likable than Beckett, and it pains me to say that as I haven't liked Hayley from the moment she appeared. Yet she was Rick's sounding board and the biggest supporter of both Caskett and them being honest with one another. Go figure. 
It was a little hard not to feel as though Kate was getting back a little of what she deserved when Rick told her that he'd erased his memory of LokSat in order to protect her from herself. As Beckett said in this Castle quote…
How did we end up here again? You lie to protect me. I lie to protect you.

Beckett
It feels as though Caskett is on some sort of dysfunctional merry-go-round and can't seem to find their way off. It's beyond time to try a new ride.
The part I hated was when Beckett insisted on drinking the night away and leaving when the sun rose instead of talking things out with her husband. Is there any possibility that this couple will ever have a serious and complete conversation that's honest, emotional, and takes place without interruption?
Some will say, that's just not Castle, but if a show doesn't evolve, then it grows stale, and I fear that's where we've ended up.
On the upside, Castle and Beckett are finally on the same page and ready to take on LokSat together. It's about damn time.
Why we had to waste 15 episodes to get to this point is the biggest mystery. Why we can't have a Caskett kiss that lasts more than a second and a half is another. If this ridiculous separation is officially over, fans deserved something far more romantic than what they got here. 
Check back later this week when our Castle round table team chimes in and if you can't wait for more, you can always watch Castle online here at TV Fanatic. 
C. Orlando is a TV Fanatic Staff Writer. Follow her on Twitter.