Can we elect Casey for President? 
It's exciting that he won his election for alderman on Chicago Fire Season 4 Episode 17, but ending with the ominous "what now?" implies it won't be smooth sailing from here. 
Not that we ever thought it would be. This is a drama after all.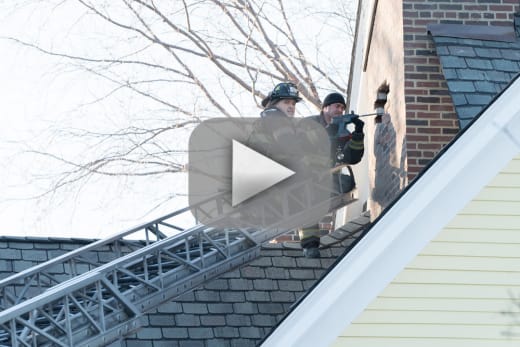 I really did not know much about aldermen before this series, and I have to say it is a little surprising how seriously they seem to take a position that's only supposed to be a once-a-month commitment.
I mean, they have debates...multiple debates, and everything!
Casey probably has no idea what he has actually gotten himself into, but it is good to see he's putting his fire fighting job first...for now anyway.
It's only a matter of time before he's missing more shifts to handle something alderman-related, right? 
It could also spell trouble for Dawson and Casey's relationship. She's been nothing but supportive of him, but I could definitely see time management becoming an issue. Juggling two jobs and a girlfriend won't be easy, and sacrifices will have to be made.
Not to mention he's going to be feeling the weight of all the promises he's made. Here's hoping he can get things done and really make a difference for the city. 
Ladies, to Al Gore, who also finished second in his election, but went on to grow a really nice beard and alert us all to the dangers of climate change.

Dawson
I got a kick out of ladies' night and the shots of bubblegum vodka Brett was pouring. It's fun seeing the girls hanging out together. 
Though, we probably could have done without Kidd's screw-up ex. Everything about that storyline was predictable, except maybe the adorableness of the idea Kidd had for Molly's Junior. Seriously though, Grant flaking on the party was a foregone conclusion, and good riddance to him. She can do better. 
I considered that perhaps Brett would come to the rescue and fill in as the musical guest for the party. We already know she has a great voice. 
Alright, so when a new female character is introduced, are we all at a point now where we just assume Severide will eventually hook up with her?
It sure feels that way, especially if the character is a cop, lawyer, or doctor and is involved with one of his cases. We may never see that cop again, but if we do, ten bucks says it'll be in his bed. 
The case itself was a tough one, and I was definitely concerned about Severide going to talk to Emma before the DNA was confirmed. That could have been a disaster if he was wrong, but instead, he ended up solving a child's murder and giving a grieving mom some closure.
Granted, getting that closure meant discovering her brother murdered her daughter, which has to open up a whole mess of new issues. That's definitely a rough situation. 
Still, it's great to see Severide hold true to his convictions and fight so strongly for them, even in situations where they might get him into trouble. 
So, were you guys happy to see Casey win the election? Has Kidd grown on you yet? 
Chicago Fire Season 4 Episode 18 shows Brett in peril, which is starting to feel like a recurring theme, isn't it? 
If you need to catch up, you can watch Chicago Fire online any time!
Stacy Glanzman was a staff writer for TV Fanatic. She retired in March, 2019.