iZombie Season 2 Episode 16 Review: Pour Some Sugar, Zombie
Meg Bonney at . Updated at .
Things get sexy in iZombie Season 2 Episode 16 with Liv on a stripper brain.
Rose McIver deserves some major props for her ability to flip so seamlessly into these different brains each week.
This brain may have been the best one yet.  
Liv's impressive stripper skills were on point. Her and Peyton taking on the case was also a nice change of pace. I would love to see more of these two teaming up to take down the bad guys. McIver had the "bad cop" bit down.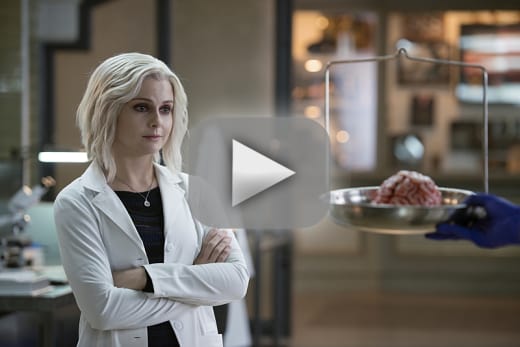 With that said, McIver's performance wasn't the most impressive in this episode. That goes to Ravi.
He is usually the funny man. The one with the zings. But while confronting his best friend, Ravi (Rahul Kohli) delivered an explosive emotional moment and killed it. 
It took nearly all season for him to find out that his closest friend was offing zombies, but now the real question becomes: what will he do with this info? 
We should really change the locks by the way.

Peyton
We have never seen an interaction like that between these two characters, and it was powerful. Hopefully Major will be able to explain his side of things and won't face the same fate as the newly cured Blaine. 
Is Blaine's condition tied to the new cure, or could there be another cause? If it's the cure, then seeing Major lose his memories will be much harder than seeing Blaine forget that he is an evil crime lord. 
If I had known you'd be dropping by I would of worn my less bloody lab coat.

Ravi
Another great, and much lighter, moment was seeing Ravi, Peyton. Major and Liv hanging out having a beer. So much has happened that we rarely get to see the gang just enjoying some time together.
It was a brief break in the drama, and it was lovely.  
Let's talk about Drake. We all knew that Liv would find out about Drake being a vice cop, but I didn't see it happening like that. Liv is not going to be pleased when she finds out Major froze Drake. Yikes.  
But if Major follows Blaine's path, will he even remember the horrible things he has done? 
Speaking of horrible things Major has done, Rita was a mess. I was hoping to get a little more time with her and her story, but it makes sense that her jerk of a father would whisk her away.
Is he going to help her or use her in his creepy experiments? 
Are you frickin' kidding me? Is this chick crying because her granny is finding out she is stripper? You're being questioned in a murder case because you are suspect.

Liv
Let's go back to Ravi. He knows about Major. He knows that Bozzio has a photo of Major with Blaine. I am hoping the team sticks with Major when this all goes to crap. I just can't fathom not having those little moments of fun between the group.
There is no way Major escapes this mess unscathed. He is going down for these murders unless he can convince Clive that killing zombies was a noble effort. Honestly, it's too much for me to handle. No matter how you slice it, Major is in for some major trouble. 
Want to join in me my panic for our beloved character? You can watch iZombie online right here. What did you think of this episode? Hit the comments and tell us your thoughts!
Meg Bonney is a staff writer for TV Fanatic. Follow her on Twitter.