Law & Order: SVU Season 17 Episode 17 Review: Manhattan Transfer

Jack Ori at .
Tucker's relationship with Olivia Benson finally makes sense.
It was a vehicle for Olivia to get into serious trouble.
Law & Order: SVU Season 17 Episode 17 featured a conspiracy that left viewers with more questions than answers. Is Olivia's termination permanent? Was Tucker actually corrupt? Who is behind the sex trafficking ring?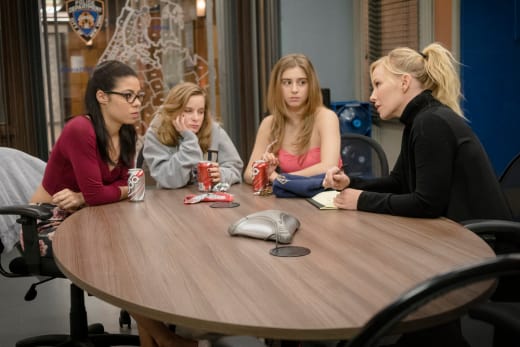 Tucker's relationship with Olivia came out of nowhere and didn't make sense given their history. Barba really spoke for the audience when he asked Olivia how she could defend a man who had messed with half of SVU, and her vague answer about having gotten past him trying to arrest her didn't really answer anything.
You and I are done talking.

Barba
It was surprising that Olivia actually got fired as a result of this nonsensical relationship. Did Barba report her after their conversation? That seems odd, as he took pains to make sure Mike didn't overhear and therefore couldn't report her to his father. 
In any event, that was far from the only stupid thing Olivia did in "Manhattan Transfer."
Nina, I need you to put my son down.

Benson
Nina freaked out after learning that Tucker was Father Eugene's cousin. She seemed convinced that this meant Olivia was part of some convoluted conspiracy to shut her up by killing her.
If Tucker and/or Eugene were involved with the conspiracy, it makes sense for Nina to freak out. What doesn't make sense is that Olivia felt a need to tell Nina that Eugene was Tucker's cousin.
Nina was clearly agitated about Eugene, so someone as experienced as Olivia should have realized that finding out the detective in charge of the case had a personal connection to him would scare her.
You'd better get yourself right with that God you love so much cause I'm coming for you and He's not gonna help.

Tucker
It's really a shame if Tucker turns to actually be the bad guy here. His confrontation with Eugene was incredibly powerful. Of course, Nina is so unstable that it casts doubt on the whole thing, and if Eugene is the bad guy he could probably paint a convincing picture of his brother the corrupt IAB agent.
After all, he accused Tucker of turning his back on God and finding suspicion in everybody because of his job.
The scenes between Eugene and Tucker are fascinating because the dialogue was ambiguous enough that it's not clear who did what when looking back on it.
Not your case. Not your case.

Benson
Tucker's insistence on proving Eugene's guilt himself makes him seem like he has something to hide, but he also could just be zealously pursuing this case.
Olivia being replaced by Mike Dodds is also weird. Dodds Senior has been after Mike to quit SVU, and earlier in the hour the vice captain mentioned that Dodds Senior said Mike was not staying at SVU.
In addition, Mike is pretty new and doesn't always think like an SVU detective yet. Fin would be a more logical choice (and where was he anyway?).
The choice of Mike Dodds to head the unit is sufficiently strange that it makes me wonder if Olivia's firing is a cover story so that she can participate in a sting or something. Too much doesn't add up about that last scene.
So what do you think? Is Tucker actually corrupt? Is Olivia actually out of a job? Is this finally the end of their relationship? Weigh in below!
Miss something? No problem. Just watch Law & Order: SVU online to catch up.
Jack Ori is a senior staff writer for TV Fanatic. His debut young adult novel, Reinventing Hannah, is available on Amazon. Follow him on Twitter.