Pretty Little Liars Round Table: Killer A?
Paul Dailly at .
Things got deadly pretty quickly, right?!
On Pretty Little Liars Season 6 Episode 18 A almost got Aria killed when they sent a surprise to Hanna's bridal shower. 
TV Fanatics Jay Ruymann, Rachel Miller and Paul Dailly discuss the attack, Ali constantly being out of time and Mona's loyalties. 
React to A's attack on Aria.

Jay: I didn't think you could get lamer than dolls. These threats aren't scary at all, just the actions of this mysterious person are. 
Rachel: The threats were more deadly when Charlotte called the shots. This A hasn't done anything scary, they just continue to overuse emojis.
Paul: It was silly and just not what I would have expected. If the previous A was billed as the high school version, then this one is kindergarten.
How do you feel about Ali being constantly "out of town?"

Jay: Why didn't they bother to add her into the intro? She was in the show more before they brought her back from the dead, it's really ridiculous.
Rachel: I agree with Jay. Alison's character was more utilized in flashbacks when she went missing. I still don't see the point of having the girls return to Rosewood per Alison's request if Ali isn't even going to be around often.
Paul: It's frustrating. Her storyline is one of the stronger parts of the show and the way she's being treated by the writing staff is just ludicrous.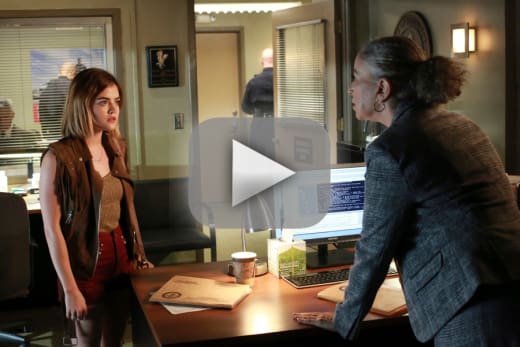 Should Tanner be fired?

Jay: Shouldn't all of the police in Rosewood be fired?
Rachel: I'm honestly surprised she's still in Rosewood. I really hate the fact that she's constantly trying to pin things on the girls after everything they've been through.
Paul: She's got to be one of the worst characters of late. She's so one dimensional!
Is Mona being too nice to the liars?

Jay: No, I want to believe that Mona got the help she needed and has really changed and wants to make up for everything she did to these girls.
Rachel: I honestly think Mona is trying to change her ways. If the girls would just for once hear Mona out, they may be able to figure out who their new villain is. I have a feeling Mona knows a lot more about the situation.
Paul: I still don't trust her. She always has some sort of agenda and I don't think I'll ever be able to believe a word that comes from her mouth.
Was Sara really the one who was identifying people from the line up?
Jay: I honestly don't think so. But it was someone who looks like her. I think Sara is the one with the twin that Marlene has promised this season and if she is, I'm going to ask someone to Jenna Marshall me so I don't have to see the irrelevant Shower Harvey forced down our throats as a character we should care about.
Rachel: I really wish Sara would just disappear. If she's the one with the twin, I would be more disappointed than when they revealed her as Black Widow and Red Coat.
Paul: I also wish she would disappear, but I do think she was the one identifying someone.
Remember you can watch Pretty Little Liars online to get caught up!

Paul Dailly is the Associate Editor for TV Fanatic. Follow him on Twitter.