Pretty Little Liars Season 6 Episode 18 Review: Burn This
Paul Dailly at . Updated at .
What would A have done if Aria was killed?
On Pretty Little Liars Season 6 Episode 18 we got confirmation that A is only looking for Charlotte's killer to be brought to justice after the events of Hanna's girly get together. That's pretty much all I can muster about that. Hanna didn't want to go, and quite frankly, I wish I hadn't either.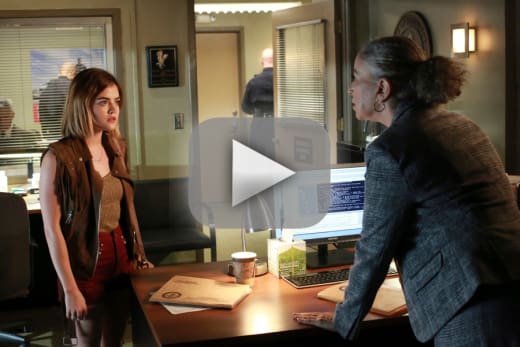 Initially, I didn't get the difference between this new A and the old, but contrasts are really starting to show. Despite all the emojis, I don't think this one really intends to kill anyone innocent. 
It would only be natural that one or more of the liars would have taken Charlotte out. She did terrorize them, but who would really come to her defense? I'm going to go out on a limb here and say there's going to be a mysterious link between Charlotte and Lucas. 
The thing that has alarm bells ringing right now is that Hanna is in his house, and he could be watching her at any time. It's kind of a throwback to Pretty Little Liars Season 2 when Mona gave Hanna the cell phone. We all know how that worked out, so I'll reserve further judgment on that point until a later date.
Elsewhere, Aria getting arrested was a bit out there, but why would they let Sara Harvey be the one at the line up? Is there a possibility that Sara somehow thinks Aria is A and had her in the police station to see if she got a text? That would be similar to the tactic used by Ali back in the day, but I have no idea what the frack is going on. 
Everything is just all over the place on the show right now. The fact that Ashley would question Hanna about being cold with Mona kind of got to me. Did someone hit Ashley on the head to make her forget that Mona was the original A? 
We didn't get much information about the A storyline, but Ems made some progress in finding the person who almost killed her. It's easy enough to point the finger, but I have to give props to her for actually trying to find out some facts before blaming anyone else. 
This could be an indication that the girls are maturing, at least a little bit. I mean, we've followed them for so many years that if they didn't, it would be the worst character development on TV. 
It did seem a little odd that Alison was back on Pretty Little Liars Season 6 Episode 17 only to be away again. There has to be some inside joke with Hanna's line about her being out of town. Alison feels like a very insignificant character this season.
Obviously Charlotte was her sister, but Ali seems stuck on the periphery, and it's leading me to believe that the writers could be trying to get us to hate her so that if they do kill her off, they wouldn't get as much hate mail. 
On the relationship front, it looks like Ezria could be reuniting very soon, but Spoby and Haleb have a lot of work to do before even thinking about a reunion. I can't help but think that the punch Toby sent Caleb's way wasn't all about Yvonne. To an extent, it's probably because Toby hates Spaleb being a thing. 
"Burn This" was a bog standard, mid-season episode of this teen drama. Outside of the premieres and finales, not very much goes on that bears significance to the story. Sure, there's a lot of relationship drama, but other than Spaleb, it's been done to death.
What did you think of the episode? Who Is A? Will Ali die? Hit the comments with your observations.
Remember you can watch Pretty Little Liars online. Get caught up now!
Paul Dailly is the Associate Editor for TV Fanatic. Follow him on Twitter.