Pretty Little Liars Season 6 Episode 19 Review: Did You Miss Me?
Paul Dailly at . Updated at .
Wait, so Hanna killed Charlotte?!?
On Pretty Little Liars Season 6 Episode 19 Hanna and Caleb hatched a plan to get close to taking down the stalker once and for all, but why am I getting the feeling that A isn't going to take this lightly, and Hanna is going to be in mortal danger?
I can't fathom why Haleb thought it would be a good idea to take this course of action. There are positives and negatives to most outcomes, but this one is up there with one of the worst decisions someone on this nonsensical show has made.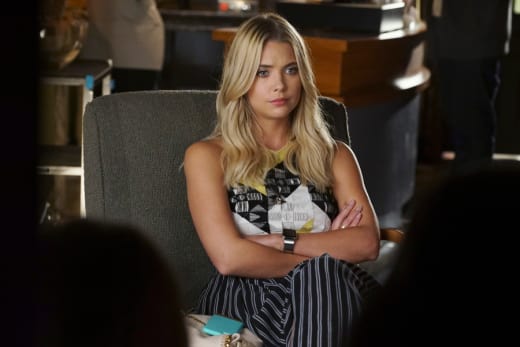 As far as A's concerned, it will have cut their search for the killer short, but it also means the liars are focusing too much on A and not the killer. At this stage the killer is the bigger threat than A. It could be anyone and they could emerge pretty quickly to take someone else out. 
We'll start with Mona who admitted that she was going to kill Charlotte. I did like Spencer's chain of thought about this whole incident, but the gals need to remember that Mona is a master manipulator and she could make them believe anything, so there is a possibility that she did kill Charlotte and is covering it up by playing the "I was going to kill her" card. 
There's always been something off with Mona, as far back as the beginning of Pretty Little Liars Season 1. I don't care how many shrinks she's seen. She can't truly change, and for that reason, she's staying pretty high up in my suspect list. 
Mona's changed so many times I bet doesn't even know herself when she looks in the mirror.


Spencer
There's also the theory that A could be the killer and wanted one of the liars to confess so they would be sent away. That's entirely plausible because we know that plots on this show can just twist a little too far. 
Then there's the fact that Sara Harvey can freaking drive. Who needs a driver when she can drive herself? I thought her hands were pretty busted. If she's independent enough to take the reins of a vehicle, then she's sure as hell able to turn to murder were necessary. 
I must bring up that scene with Spencer and Emily tricking her driver. Why would he not turn round when Spencer grabbed the tube off him? That was just ludicrous and had me questioning whether you need a low IQ to live in Rosewood. 
Seriously people, get it together. It's not like there's a killer on the loose or anything. 
Going into the season finale, this has to be the least excited I've been for the conclusion of any season of Pretty Little Liars. Something has just been off with the show for much of this season and it kind of feels like the show has run out of steam. 
There's a whole twin thing coming back into play, and I don't doubt that Mrs. D apparently being a dream in Ali's hospital room is going to stick. Twins already run in her family, so whose to say she isn't one herself?
That's about all the sense I can make of this damp squib of a mystery. We are not short of suspects, but there's a severe lack of motive for pretty much everything, so we'll have to tune in to see how it ends. 
"Did You Miss Me" was a dull outing that felt almost like a spoof of the show. It's time to cut the cord, Freeform. There's a reason the show has lost half of its ratings in a matter of weeks, and before you play the time shifted card, the ratings are down dramatically in that measure, too.
Other tidbits from the episode:
It looks like Spaleb were quite a bit more than friends in Madrid. Those liars! 
Did anyone laugh when Ali fell down the stairs? It was painfully executed and there's no way that Elliot sent her flying. 
What is Lucas' deal? He seems to want to be Hanna's knight in shining armor, but he's probably got an ulterior motive. No one does anything in Rosewood without expecting something in return. 
Spencer's reaction to Hanna telling her she was the murderer was hilarious.
How will Liam feel about being phased away from Aria and Ezra's book?
Ugh, if Aurora from The Originals plays Nicole once more I may have to just stop watching altogether. Ain't nobody got time for that!
Is Spencer getting jealous of Haleb? She's no match for an OG ship.
Remember you can watch Pretty Little Liars online to get caught up on all the drama. You know you want to!
What did you think of the episode? Are the liars playing a dangerous game? When should the show conclude? Hit the comments below!
Paul Dailly is the Associate Editor for TV Fanatic. Follow him on Twitter.