Pretty Little Liars Season 6 Episode 20 Review: Hush...Hush, Sweet Liars
Paul Dailly at . Updated at .
Just when I was ready to write Pretty Little Liars off, it pulled me straight back into the twisted world these characters live in.
On Pretty Little Liars Season 6 Episode 20, we finally found out the identity of the twin and it was worth it. I think I speak for a lot of the fans here when I say that we wanted the twin to be Mrs. D's.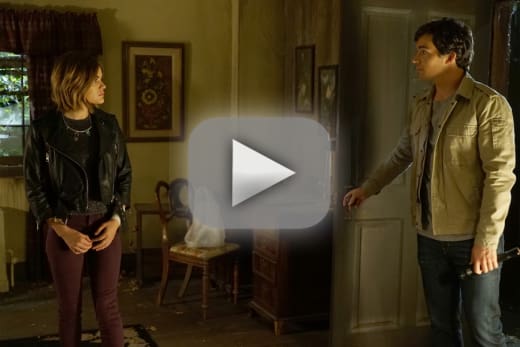 It made the most sense and nothing really makes sense on this show, so there's that.
It does, however, make a lot more sense now why Kenneth shunned Charlotte. It grated on my nerves how a parent could do that to their child, but I'm guessing he never loved her anyway. 
Charlotte was taken in from her aunt out of pity, but it doesn't quite make sense that Ali's parents have kept this one quiet. Surely they knew just how twisted things can be in Rosewood and that there was a good chance if Mary ever got on the outside, she could impersonate Mrs. D. 
I'm not ruling out that that's already happened throughout the show's six season run. Her mood has changed quite often, so I do hope that they have used her before now. If not, it just backs up the fact that the powers that be behind the show are sitting in a room trying to figure out how to throw shocks at the audience. 
One big thing I got from this hour was that Elliot could definitely be A-moji (Thanks, Caleb!). There has to be a reason why the new stalker was looking for the killer and as soon as she was found, Mary showed up in the footage. 
For a second, I was so sure that Wilden was back, but I'm glad it was just a very good mask. Whoever makes these are very good.
I don't quite understand the motives these new villains bring to the table. Elliot made a comment about getting half of the Carissimi group and Mary seemed ecstatic at the prospect of getting her foot in the door for some power. 
What will Mary do now that she's part of the company? Can we assume that these two were in cahoots and killed Jessica? Will Elliot still hang by Ali as the doting husband, or is he over terrorizing her? 
Either way, I'm intrigued to find out how this plays out and I will most certainly be tuning in this summer to see how the mystery plays out. 
Obviously the big question after the finale is about the fate of Hanna Marin. It sure looked like her fate was sealed in those final moments as she got set to face a similar death to Charlotte. Hanna is a great character, so taking her out would cause a meltdown on social media, but on the other hand, we really need something significant to happen to show just how much the stakes have been raised. 
Could that mean a Hanna free potential final season of the show? We'll have to stay tuned to find out!
Aside from the mystery hitting new heights of craziness, the ships seem to be on the mend and our favorite characters might be getting back together sooner than we think. 
It sure looks like Ezria started the party early, but I'm conflicted about my emotions for Spaleb. They have been on of the highlights of this weak half season, but if they split up it paves the way for everything to be right in the world. 
We know nothing is ever clean cut on this show, but it's time to let all the couples be together and take down the monsters of Rosewood once and for all. 
"Hush...Hush, Sweet Liars" was an hour that managed to course correct the series and it showed that other reveals on the show could live up to the A reveal. The show is heading in an interesting direction, but it's time to start saying goodbye and announce that Pretty Little Liars Season 7 is the end of the line. There's only so many times you can find a way to reel fans back in, and I fear this is their last chance to give us a logical ending. 
Other tidbits from the episode:
Spencer's comment to Mona about still stalking her won the night. Even when times are tough, you can always rely on Spencer for comic relief.
The scenes with Ali's fake visions were great. Did anyone else feel a little scared?
Can the Radley storyline be over for good now?
What will Veronica winning mean for the skeletons lurking in their closet?
Could there really be another A?
Did Caleb seriously use google to figure out what he was doing with the volts?
Will Yvonne still be around in the summer?
Remember you can watch Pretty Little Liars online, right here on TV Fanatic. Get caught up on all the drama now!
What did you think of the finale? Should the next season be the final one? Hit the comments below!
Paul Dailly is the Associate Editor for TV Fanatic. Follow him on Twitter.