Just when I thought I had it all figured out, Shades of Blue Season 1 Episode 12 pulled the rug out from underneath me…again!
The first few minutes felt as though the world was spinning as much as Harlee and Wozniak's stolen car, as someone slammed into them and stole the $12 million, leaving lots of questions.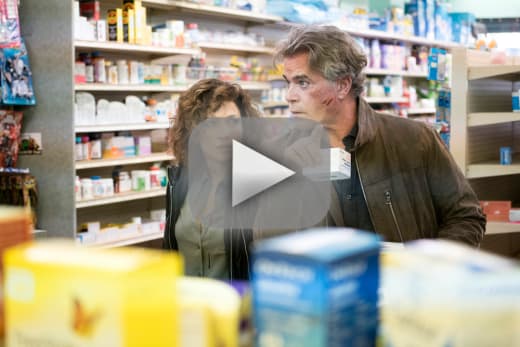 Who would have known about the money and had their whereabouts, especially after the heist was botched by Loman? And who would have taken the time to check Harlee's pulse? If Donnie was the culprit, as Wozniak kept insisting, then wouldn't he had checked on Woz over Harlee?
For a while, that one detail had me wondering if Miguel had somehow stolen the money. I even wondered if Stahl could be dirty because who else would care if Harlee was dead or alive?  
I never for a second expected that Harlee had planned the entire thing with her ex-training officer. That revelation had me totally floored. 
The other move that had me in awe was Harlee's quick thinking when Loman wandered up on the heist. She effortlessly spun that story about Donnie threatening to take down Loman for the shooting if the team didn't help him rob the armored car. Heck, I almost believed her, and I knew it was a lie. 
It really spoke to Stahl later telling Harlee...
You know that's the first time I've ever actually believed you Harlee. Funny how your mouth wasn't moving.

Stahl
At least Harlee's story helped explain Loman's sudden and intense loyalty to the team because I agreed with Wozniak when he told Harlee in this Shades of Blue quote…
Reciprocity has its limits.

Wozniak
But it made a lot more sense that Loman lied to the FBI because he believed he was saving himself and the team that was so loyal to him that they'd risk their lives and careers. 
Was the phone call to his Captain him deciding to turn himself and everyone else in, or had he just decided to take that transfer to homicide?
Wozniak shined throughout this episode. Despite everything having gone horribly wrong, he still had the best quips, such as telling Linkletter (or whoever he is?), "We're both fine, thanks," when the man clearly didn't give a damn. And later telling his priest he couldn't make a full confession yet because he had a couple more people to hurt. 
The most powerful moments were at the end with Wozniak and Harlee. The simple closeups on their faces were intimate and moving. Woz spoke about his daughter who had committed suicide and how it led him here, while Harlee tried to explain in a video message to Cristina how she got to this place. 
It was the same recording we saw her make in the Shades of Blue Season 1 Episode 1, and it was all the more compelling now that we knew the details behind the confession…
It happened so slowly that I didn't realize and so quickly that I never saw it coming.

Harlee
Now that Harlee has the $12 million, what's next? Since there will be a Shades of Blue season 2, I'd guess she won't run off to some island without extradition. Can she somehow still save her team? Could she end up with the money and a new start but still lose her daughter to Miguel?
With all of the twists and turns, I truly have no idea how this will end. Check back next week for my review of the Shades of Blue season finale and if you can't wait until then, you can watch Shades of Blue online here at TV Fanatic.
C. Orlando is a TV Fanatic Staff Writer. Follow her on Twitter.