Vikings Q&A: Alexander Ludwig On Shifting Power and A Brutal Season 4

Henry A. Otero at .
Vikings' history, itself, is a massive spoiler as far as this series is concerned.
Therefore, it's no real secret that Ragnar Lothbrok died relatively young and his sons went to war to avenge him. I've mentioned in my recent Vikings reviews, that Bjorn has been slowly moving into the series' coveted lead role.
Alexander Ludwig recently spoke to the press via conference call about the show's inevitable shift in power, Bjorn's relationship with his half brothers, the insanely brutal (and longer) Vikings Season 4 shoot and much more.
It's safe to say that Travis Fimmel has set a pretty high bar with his portrayal of Viking leader Ragnar Lothbrok. Luckily for fans of the series, Alexander Ludwig has been allowed to step it up big time this season. There's no doubt in my mind the young actor will be as strong a series lead as Fimmel, when the time comes to bid farewell to Ragnar.
When asked what Bjorn still needs to learn in order to become a great leader like his father, Alexander said "I think the main part of this whole season, for me, is Bjorn basically learning to trust his instincts. The most important thing is that he trusts himself and this whole season is kind of about him learning to do that and taking more control."
Since Bjorn grew up much more privileged than Ragnar, his father has had to be extra tough on him. Alexander shared his thoughts on this topic.
"He's been trying to harden him up because [Bjorn] didn't have to work as hard as his father did at the start. He was kind of thrown into this more lavish lifestyle. Ragnar was a farmer, whereas Bjorn grew up but his father had become a king when he was still a younger man so it's definitely about him growing up."
Alexander elaborated a bit further on Bjorn's "vision quest" this season.
"It's my view that most sons try to make their father proud in a subconscious way, but for Bjorn, I think it's more for him. He needs to do this. He needs to get away and he needs everyone to see that he's become his own man. He's testing himself because he doesn't even know if he can do it. He needs to prove to himself that he's not in the position he's in because of his father. He's there because he deserves to be there. He deserves to be a leader."
Interestingly enough, life imitates art because Alexander credits Travis as being his "champion." He spoke fondly of his castmate.
"He's one of my best friends and he's just been amazing. Just working with him and learning as much as I can. So, consistently working on the scripts and whatnot has been really important."
"Also, Gustaf is my best friend as well. I mean I just – I've learned so much from him as well. We lived together and it's always great to bounce ideas off him."
It didn't take long for series creator/writer Michael Hirst to come up in the conversation.
"[Hirst] has been amazing because it's so rare that you find a writer on a television show that's so open to collaboration. It's so great that he is and it really has been a dream come true."
Ragnar and Rollo have found themselves at odds since early on in the series. Though Bjorn seems to be getting along well with his half brothers, that may change as the boys grow up.
Here's what Alexander had to say about Bjorn's relationship with his younger siblings.
"I try never to forget that Bjorn actually has no allegiance to his brothers in terms of bloodline. I mean, everyone shared the same father but Lagertha is Bjorn's mother and everyone else is born under Princess Aslaug. That's definitely going to come into play as the season continues. You'll see certain brothers side with certain ones and others do not and it gets very, very intense."
In Vikings Season 4 Episode 1 Bjorn was seen studying a map and we caught a glimpse of Italy and the Mediterranean. Alexander was quick to point out that nod to Bjorn's future was intentional.
"One hundred percent [intentional], yes and that's something we've known about since the beginning, the beginning of the show. So, it's a very, very cool little addition and I'm really excited for you guys to see where it goes."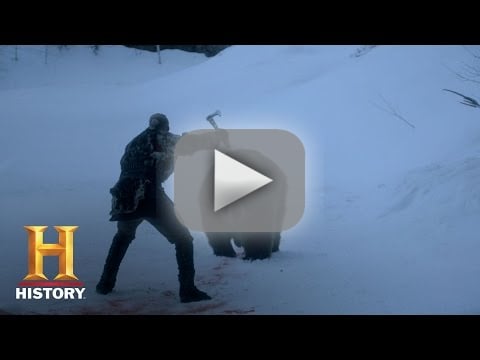 You would think that one of his biggest challenges might be the crazy grizzly bear fight. However, Alexander credited mother nature instead.
"I'd say it's got to be the weather here is just unbelievable. I've never seen anything like it, when you're on the boats and working in these brutal conditions especially right now that we've never experienced having showers in the winter. It's got immense repercussions on our show, but the funny thing about the weather is it just looks so great that you kind of find solace in the fact that the show is going to look awesome. It's definitely been a brutal shoot towards the end."
Speaking of that grizzly bear, when asked how much of that scene was CGI Alexander said, "We don't have a budget like The Revenant, so we can't make a CGI bear. In a really exciting way, we got to use a real one and it was a very, very incredible experience to work with such a beautiful and amazing animal."
Though that moment was pivotal for his character, Alexander discussed another scene that he takes great pride in which was quite powerful.
"I really did take a lot of pride in that scene we did in Vikings Season 4 Episode 2 where I address everybody for the first time as the leader while Ragnar's kind of incapacitated. A lot of the stuff that I'm really excited for everybody to see, and I mean like beyond excited than anything I've ever done on Vikings is coming up from about Episode 15 and onwards. You're going to see a pretty crazy event and Bjorn's going to do some pretty amazing things."
So far Lagertha has not seen much action this season, aside from castrating what's his name. However, Alexander assured us that she and her son will reunite soon.
"[Bjorn's] all about Lagertha achieving her own dreams. They've always had such a strong bond that he's just excited for her when she's achieving her goals and I think that Bjorn's learned so much from her as well that – you're also going to see actually a cool little change as they start becoming more companions than just – she's become as much of a parental figure as a companion to him now which is a really cool shift in the relationship."

The conference call ended on a lighter note, which was kind of fun... Viking pranksters!
It's well-known the cast of Vikings loves to prank one another, and Alexander got Travis good at Comic-Con. Check that out on YouTube.
When asked if he was worried about payback he said, "I mean I'm always worried about payback and I expect it. I had payback for that at the airport on my way home. Travis stole my shoe at security and I had to fly all the way to Ireland with one shoe because he threw it away in the trash."
[Laughter] "So I mean this year, I think I'll just pick my moments carefully when he least expects it. So I'll just have to be – he'll be expecting it at the panel. So I have to choose my moments."
Vikings Season 4 Episode 4 airs on March 10 at 10/9c on HISTORY.