Vikings Season 4 Episode 6 Review: What Might Have Been

Henry A. Otero at . Updated at .
Yes, this was a much slower-paced episode, but a lot went down in the hour.
I think Vikings Season 4 Episode 6 did a nice job of setting up the big confrontation between Ragnar and Rollo. Sure we've seen the brothers come to blows many times, but I'm curious to find out how this latest battle will be different.
The installment focused on the youngsters as well. Future King Alfred's story promises to be absolutely riveting.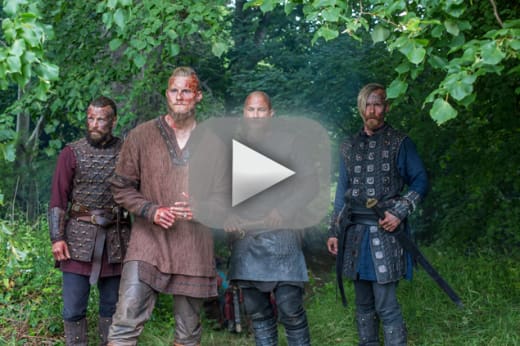 Lagertha was true to her word, taking out Kalf as soon as the opportunity arose. We closed with that shocking twist on Vikings Season 4 Episode 5, and opened with Erlendur questioning the murder. With a return to Paris in the cards, I'm not sure the timing was right as Kalf did save her life during the last raid. Sure, he was a weasel but he could have proven useful a while longer.
Either way, Lagertha demonstrated no regret while sharing a few words of wisdom with Erlendur's son. I loved when Ragnar asked her later about Kalf's death and she confessed her heart was broken a long time ago.
Back in Kattegat, Ragnar got his troops riled up for the return to Paris. Wanting to take his young sons's with him, Ubbe and Hvitserk were given their arm rings. Aslaug wasn't pleased, but Bjorn seemed thrilled and will no doubt protect them.

The boy's are quite young, but Ragnar's point was a valid one.
Ragnar: I'm taking the boys with me to Paris.
Aslaug: They're too young.
Ragnar: It is my decision if they come or not. They are not too young to watch. In any case, they're safer with me than they were the last time with you.
Ouch! Harbard has been mentioned a few times now, so it was no surprise he'd reappear. Interesting that he only shows up when Ragnar is gone. Kevin Durand is fantastic as the wanderer. I'm hoping we actually learn more about the guy this season, as he's still such a mystery. Anyone else still miss Siggy?
I realize time is moving quickly on the series, yet it was surprising to see how much Alfred had grown. Naturally, King Ecbert is preparing the young prince for his ultimate destiny. That's one hell of a walk, poor kid. Though the Wessex arc has dragged a bit this season, Alfred the Great's story is crucial as he became the dominant ruler of England fighting the Vikings.
With the series already renewed for a fifth season and Jonathan Rhys Meyers joining the cast, could the actor be playing the adult Alfred? I mean, you don't hire an actor like Rhys Meyers for just any role, right? If so, there is clearly another time jump on the way.
A very decent sized fleet sailed for Paris (remember when they only had one ship?), with Yidu in tow. While there's always a chance Ragnar will lose her during the battle, at least she is safe from Aslaug's clutches.
Much more attention was paid to Ragnar's sons in this episode. Sigurd actually spoke and we learned that Ivar gets a little extra mothering from the queen. I am becoming much more curious about Ragnar's sons and can't wait to see their individual personalities take shape. Ivar the Boneless is easily going to be one of the more twisted of the brood. What was with that wicked laugh?
The Vikings have sailed west so many times now, I was surprised they got lost for a while there. Still, it was great to see that their methods weren't foolproof. When they finally reached the mainland, the Franks simply didn't stand a chance. They took that camp easily, didn't they? It was brutal watching the newest Viking brothers burn those French soldiers alive. Erlendur threatening Torvi's son was a low blow even for him. Hopefully, either Bjorn or Torvi herself takes care of that villain soon.  
The Northmen have returned. It is said they fly the black raven banner of King Ragnar Lothbrok.

Emperor Charles
Understandably Rollo looked petrified by the announcement that his brother was back, but the emperor was quite worried as well. Rollo has been known to switch sides at the drop of a hat. "Do not return to your brother" the emperor begged. Rollo swore he wouldn't and history tells us he does not, but man that confrontation's going to be epic.
Meanwhile, Count Odo is staging a coup, but he just shared his little secret with the wrong person. We know that Odo is chosen by the Franks to be king following the removal of emperor Charles, but his reign doesn't last long.
Ragnar's "medicine" is becoming an issue, but I loved that quick flashback to happier times. Yes, it brought a tear to my eye. The former farmer turned king is tired, and you get the sense he will welcome death when it comes. Even at the hands of King Aelle.
First, Ragnar and his brother must face off once again. Things are about to get crazy. I can't wait for the next episode!
What did you think of "What Might Have Been"? Do you like the attention being paid to Ragnar's sons? What did you think of the flashback and seeing Athelstan again? Alfred's in for one hell of a walk, isn't he? Your turn ladies and gents, please sound off in the comments below. There's lots to discuss.
As always you can watch Vikings online anytime via TV Fanatic if you happen to have missed an episode.
NOTE: Vikings Season 4 Episode 7 is titled "The Profit and the Loss" and airs on March 31.