It took five episodes to find out how Richie Finestra's breakdown was really going to pan out, but it's starting to shape up.
On Vinyl Season 1 Episode 5, Richie named his new label, lost a major client and probably added adultery to his list of sins on top of murder and falling off the wagon. 
Whatever semblance of normalcy Richie had in his life up to now might get shoved even further down into his pants pockets, as he'll be bringing on board a woman from his past who was involved in both his professional and personal life.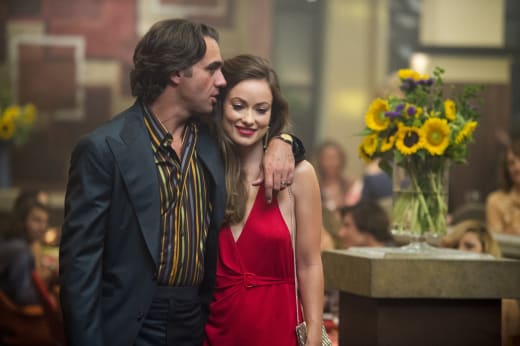 It's a good thing Richie doesn't have a truly close relationship with his father, as the police were listening in on their conversation about Richie's alibi. Richie said just enough to implicate enough, but not enough to hang himself. It they were closer, the results might have been worse. 
It did give him the idea for his new label: Alibi Records. That's a pretty good name, and he also has someone new to help him bring it into focus. 
We'd seen Andrea before with Jackie Jervis. It's unclear what is between Richie and Jackie other thank rival labels, but they're always out to screw each other. When Richie caught up with Andie, she seemed hurt by him and wanted to know why he chose Devon over her. Devon's beauty won her the life she's probably regretting at the moment.
It sounds like Andie was by Richie's side when he was coming up, but got pushed out for different partnerships both business and personal. But when Richie thinks of who could help him make something of American Century now when it's in the need of the most help, he thinks of Andie.
It probably won't make Devon feel great that Richie is going back to his roots in this way.
Richie is so full of ego. It never even dawned on me Devon was doing anything with Hannibal other than trying to make Richie notice her. She's been alone since the series started. She just wants him to remember she's there for him and wants him. That she has purpose.
If his purpose for her is to use her as a whore, she was even willing to comply with that, as crazy as it was, just to get back into his arms. She wasn't going to like it, but she took the opportunity and would have made lemonade out of lemons. 
What sucks is she knew damned well he was using her as bait to sign Hannibal. She rolled with it for the sake of the company exactly as he wanted he to, but when she said it out loud, he pulled the bait and switched it up. That was so unfair. 
Now he's going to start cheating on her? Sex, drugs and rock n roll really are inseparable, aren't they?
The use of music was really great during this hour, and it felt as much of a character as the characters themselves. It almost never stopped.
I'm excited to see what's next. I love when the stakes are raised and it feels like you're standing on the ledge. Will they all fall down?
Carissa Pavlica is the managing editor and a staff writer and critic for TV Fanatic. She's a member of the Critic's Choice Association, enjoys mentoring writers, conversing with cats, and passionately discussing the nuances of television and film with anyone who will listen. Follow her on Twitter and email her here at TV Fanatic.