OH. MY. GAWD.
If you saw that coming on Younger Season 2 Episode 9, then you are a far more per perverted cynical person than I am! 
I was expecting Liza to enter a barn full of electrical equipment, discovering that the handcrafted fellow was all over the web or talking on his cell phone. 
To what did my poor, beleaguered eyes should appear? No. Just no, people! STELLLAAAAA!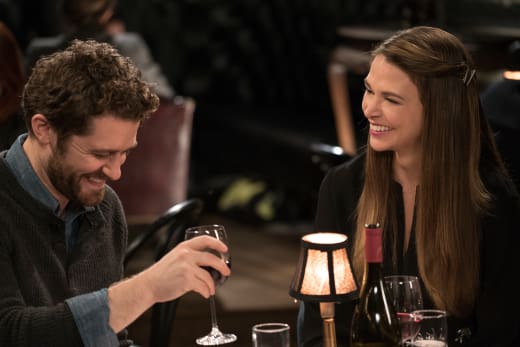 Now I know why there needs to be an entire dating site for farmers. I'm not the only one who heard, "You don't have to be lonely, with FarmersOnly dot com," the first time and thought I had turned on Saturday Night Live by mistake, right?
Because what a strange and weird world farmers must live in to need their own people, I thought. Then Liza runs into Sebastian.
Sebastian who names his sheep, keeps a diary of his days on a handcrafted, leather bound (Shirley?) book and, oh by the way, also satisfies his need for CREATURE COMFORT with the same gals who provide him with fuzzy blankets.
I just can't.
That scene so weirded me out I was stone faced for about five minutes. 
Would any of your put those antics past Thad is he didn't have a warm body? I sure wouldn't. The guy is pathetic. 
I'm also a bit saddened by all of Kelsey's friends, who set up Liza to be the voice of reason about Kelsey's engagement, and then the bearer of sour grapes when they all backed away from their feelings in the face of Kelsey's unhappiness at being questioned about marrying Thad!
We know Kelsey is incredibly intelligent. She's so sweet and funny and lovely. Why is she deliberately ignoring all of the signs about Thad? What has made her value herself so little she would settle for a creep like him?
Kelsey: Is there anyone else who is going to be surprised your status has changed to engaged?
Thad: Yes.
Kelsey: Like who?
Thad: My parents.
Kelsey: You haven't told your parents?
Thad: They're out of town!
Kelsey: Then my vagina is out of town!
Thad: Is your mouth out of town?
The reality is we can all get trapped in relationships where we refuse to allow ourselves to see the terrible person we are paired with, but can spot a similar jackass a mile away.
For some reason, Kelsey doesn't think she deserves to be treated well. 
Yet she had the right idea of unfriending all of his female friends. So she's aware enough of the problem to address it, but not to realize it's a problem that will continue well beyond their engagement. 
Or to recognize her friends aren't "liking" her Instagram photo of her engagement ring because they are hoping she will get the message.
What's going to happen when someone has to deliver bad news to her about Thad? Will she side with her betrothed or the message bearer? I have a feeling we will find that out. Hopefully before the wedding. I'd hate to see her officially tied to the fool.
And the best catch is dating other people. Or is he? Do you think Josh is officially dating Greta, or just going out with her for business purposes? Let me know what you think about all things.
And remember, you can watch Younger online any time right here via TV Fanatic!
Carissa Pavlica is the managing editor and a staff writer for TV Fanatic. She's a member of the Broadcast Television Journalists Association (BTJA), enjoys mentoring writers, wine, and passionately discussing the nuances of television. Follow her on Twitter and email her here at TV Fanatic.