Awkward Season 5 Episode 19 Review: Girls Gone Viral
Paul Dailly at . Updated at .
What happened to the witty dialog?!
Jenna's big article about her relationship with Matty continued to pop up on Awkward Season 5 Episode 19 and led to her getting the article taken down. 
I agree with Jenna's decision to pursue her boss to have it taken down. Why should she have her name on something that she doesn't even agree with?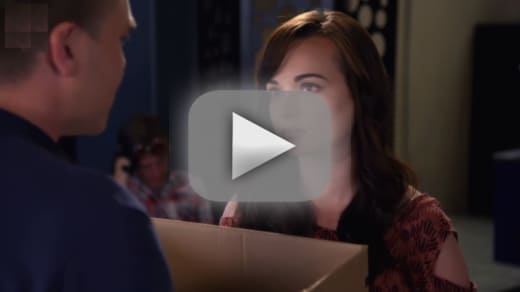 The main thing that grated on my nerves about the whole thing was that she hadn't read the edited version of the article. Surely for any writer that would be the first thing to do. 
If only she had read it. She wouldn't be in the mess she's in now. 
It's blatantly obvious that Matty still loves Jenna, but I'm not so sure that she actually loves him. They've both been through so much that it wouldn't be all that shocking if they never spoke again. 
I could get on board with that. 
Jenna done the impossible and moved on with Luke, but she's poised to blow it all due her fascination with Mattie. 
I don't get why Luke drove away and then apologized. He must really love Jenna to be putting up with that. 
He's done nothing but try to help her from the start of their relationship, but she doesn't seem to want to listen to a word she says and that's not a good thing. 
She needs to decide which man she wants because that's what it's going to come down to in the next few weeks. That means she's going to leave one of them broken hearted. 
Elsewhere, Jake's job at the country club earned him some brownie points with Jenna's friend, Ophelia, but how long will it last?
Lissa isn't going to take too kindly to him moving on that fast and the same will probably go for Aly. 
Aly one of few characters who can still make me chuckle on the show, so her reaction should be great. 
It does suck that people keep looking down Jake for ditching education. He's moved up the ranks at the country club very quickly, so why should he be defined based on his education?
It sucks being judged and he really doesn't deserve it. He's did well by sticking to his job and not going out and drinking at every opportunity he gets. 
This is amazing. The contrast between two friends on two different roads.


Ophelia
He may not be the greatest bar man, but he's a great people person and his storyline is one of the only exciting ones left on the show. 
Aside from that, Sadie was trying to figure out what her relationship with Sergio meant for her. 
I didn't get all the drama with them not saying they were going back out because it was crystal clear that they were after last week's episode. 
It's time for them to quit the back and forth before this couple becomes another casualty of consistently being ripped apart. 
Let them be happy. They don't have to be Jatty 2.0. 
"Girs Gone Viral" was a very weak installment. It's clear at this stage that the show is limping to the finish line and won't be going out with any sort of dignity. How the mighty have fallen. 
Remember you can watch Awkward online right here on TV Fanatic. Get caught up on all the drama now before the series concludes. 
Note: Awkward Season 5 Episode 20 airs Tuesday May 3 only on MTV.
Paul Dailly is the Associate Editor for TV Fanatic. Follow him on Twitter.