As much as we'd like it to be, the world is not a fair and equal place, and Bones Season 11 Episode 12 drove that home. 
"The Murder in the Meninist" was difficult to watch and yet I wouldn't change a thing.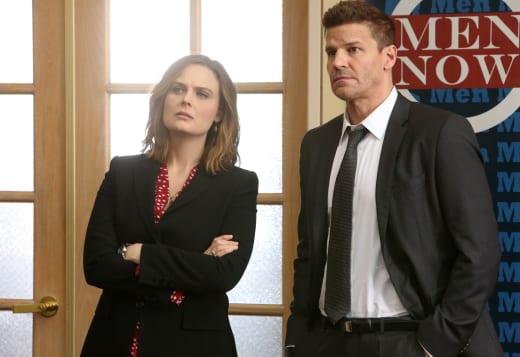 It was hard to watch because despite being a bit of a conspiracy nut, Hodgins has generally been an optimist. He's the guy who says we can get that done. He's smart and funny, and his romance with Angela has always been a bright spot on the show. 
But that all changed when he realized he may never walk again.  As he shared in this Bones quote…
No, I have plenty of feeling. Anger, rage, biting sarcasm, although I'm not sure that last one is a feeling or just a really pissy attitude.


Hodgins
Hodgins' attitude was at its worst with Angela. Where as the case of the week discussed whether a man could be the victim of spousal abuse, Angela had become Hodgins verbal punching bag. 
Of course she's not the only one. He was quick to lash out at almost everyone, but Angela got the worst of it by far, and I wanted to cry for her. She knows he's going through hell. Intellectually she understands it's a process, but living like this is painful in a way that's hard to manage. 
I was glad that Brennan not only noticed but said something to her friend, not that she had much advice for how to deal with it or make it better. 
I do wonder how long it will be before someone finally snaps and tells Jack to stop being such an ass. My money is actually on Booth as he's witnessed friends and fellow vets coming back with similar injuries.
At some point, I think Seeley will have enough of watching his friend emotionally abuse his wife and friends and try to say something to change Hodgins' attitude. Time will tell if I'm right. 
The case itself had some strange turns. Much of the Men's Now rhetoric was horrifying, but I appreciated Brennan's ability to see that at least a couple of their points might have merit. 
I'm still mulling over how I feel about Brennan punching Paul. Did I want to see her hit him? Absolutely! Should she have? No. It really should be grounds for an assault charge; however, I did appreciate that part of why she did it was so that Booth wouldn't hit the man himself and lose his job.
Booth and Brennan are always looking out for one another and I love that about this couple. 
As for the circumcision class action suit, if you were circumcised as a baby, then your parents would be the ones to give consent as with any other medical procedure performed on a child. As such, the grounds for a lawsuit are still a mystery to me. 
So how long do you think Hodgins will have his "pissy" attitude? Are you enjoying this unflinching look at coming to terms with such a life changing injury as I am or do you wish it were over? 
Check back on Monday to see what our Bones round table team has to say and if you can't wait for more, you can always watch Bones online here at TV Fanatic.
C. Orlando is a TV Fanatic Staff Writer. Follow her on Twitter.