There was an awful lot going on in that one, wasn't there?
On Chicago Fire Season 4 Episode 18, we got a wedding, threats on someone's life, all kinds of relationship drama, and Casey's first vote. 
Normally we have an "A" and "B" plot, maybe a "C," but this one felt like it went half way down the alphabet.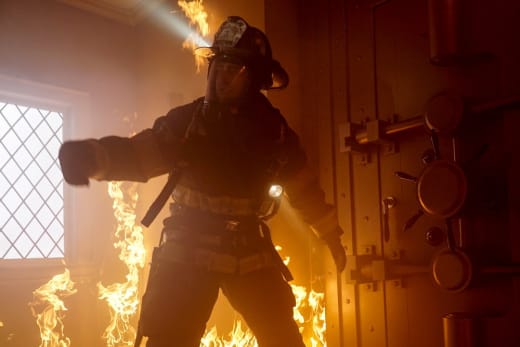 Was there too much going on? Perhaps, but every minute was entertaining. 
The downside to stuffing so much in meant we didn't get to see as much of Platt and Mouch's wedding as I would have liked. It was a little sad we didn't get to hear the final vows after watching Mouch spend so much time on his. 
It was super adorable seeing Mouch and Platt freaking out over the exact same thing, and just affirmed for us why they are such an amazing couple. Let's all raise our glasses in a toast to many happy years of sweats, TV, and Rocky Road. 
I wondered in my review of Chicago PD why Platt didn't invite Intelligence to her wedding, at least that was my assumption when Burgess received an invitation last minute.
But then there was Olinsky, randomly there by himself representing the rest of Intelligence. Why wasn't Antonio there? He was already in the episode, would it have been that hard for him to make an appearance?
Moving on to Brett's story, which while tense, was incredibly unrealistic. 
Are we supposed to believe this guy has no qualms about killing one man, but has a conscience about Brett? Him leaving her alive made absolutely no sense whatsoever. He just walked right up, killed a man right in front of her, and politely asked her not to go to the police because he took her wallet. 
He could have at least been wearing a mask or something. 
After Brett and Jimmy went to CPD, I wrote down in my notes, "why wouldn't they just ask Dawson for Antonio's number?" Thankfully, they eventually did, but that should have been their first thought.
I get Brett not wanting to get Gabby involved, but she could have made up any story as to why she needed it. Considering how often he's helped out the house, I'm surprised his personal cell isn't posted on a cork board somewhere.
Kidd: Sounds like a wild table, better bring your A-game Severide.
Severide: That's all I got.
Kidd: So breaking and entering is your A-game?
Next up on the docket, relationship drama! We'll start with Kidd and Severide. First of all, Kidd's a great storyteller, but I would like to know how Severide managed to sing Sinatra with a rose in his mouth. The guy's got hidden talents we've yet to discover! 
How many episodes are we giving them until they sleep together? Anyone want to get a pool going? I wouldn't have been surprised if it happened in this episode, but instead the hook-up of the week went to Otis!
Good for him! He found a girl who actually likes his mustache, and he can finally stop pining over Brett. Thank G-d. 
Things aren't looking so great for Casey and Dawson. Apparently Dawson has been hiding behind this whole, "we can't work together and be married" thing, and doesn't actually want to be married. Casey does, and he was clearly hurt by her reluctance. 
Meanwhile Jimmy and Brett seem to be making progress, but still appear to be in the flirtation stages. C'mon Jimmy, jump in there and ask her out, you already know she likes you.
Oh yeah, there was also a fire in there somewhere, and Casey lost his first vote as Alderman after basically playing David vs. Goliath over some shady insulation work. He's going to have to realize that his new job is a marathon, not a sprint, and it is going to take some time before he can make any real changes. 
Some final thoughts: 
I was a little confused about Mouch asking Herrmann to be his best man. I thought the whole thing with Logan was part of the ruse, not just the bachelor party. 
I'm not squeamish, but the bullet to the back of the guy's head was pretty damn gross. 
Burgess taking a swig from the bottle was hilarious, especially considering her sole job was to keep Platt sober.
The cake topper was equal parts adorable and awesome.
All right, your turn, hit the comments with your thoughts on all the action!
If you missed anything, watch Chicago Fire online and catch up!
Stacy Glanzman is a staff writer for TV Fanatic. Follow her on Twitter.