Angry Russell is a lot of fun.
Attempting to rescue a group of girls, a deadly virus outbreak, and capture a wanted terrorist. It was just another day for Elizabeth on Madam Secretary Season 2 Episode 19.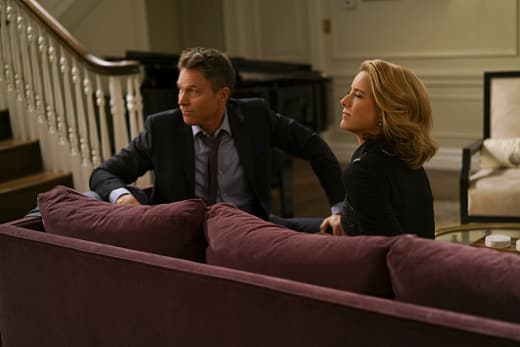 The whole Marburg virus outbreak wasn't very intriguing. Don't get me wrong, I cared about what would happen to Jay, but it all seemed incredibly ridiculous. 
Wouldn't someone who works for the United States government be quarantined, or at least tested, before they even entered the United States? It was clear while they were in the situation room, they never put any real plans in motion to protect the US from this deadly virus. 
Of course the hospital quickly found a cure, but I knew they'd only have a few doses left. I had to wonder what Elizabeth was expecting when she went to Jay with her plan about giving the cure to the leader of the Boko Haram. He had just gone through the possibility of catching the virus. Of course he wasn't going to give his blessing. 
The only good thing I can say about the whole Marburg virus storyline was how powerful it was when Chris made his way back to Cameroon. There was something about this man who almost died from the disease putting the girls he was trying to save first. 
I couldn't help but laugh when Elizabeth was talking to Stevie about Jareth. Stevie was right about the whole ordering boots for her boyfriend being weird, but this is Elizabeth we're talking about. I was totally on Elizabeth's side about the whole one-click ordering method – it is pretty amazing. 
How could Stevie be shocked to learn her parents never liked any of her past boyfriends? Stevie hasn't had the best track record with the men in her life. Thank goodness she has finally found a great guy in Jareth. I really hope they end up working out because he has been a breath of fresh air. 
I did find myself disappointed again in how they pushed the Jibral Disah case to the back burner. This is someone who was able to bring a dirty bomb onto US soil Why aren't they giving him more attention?
I am interested to see if Disah is being helped by someone who works for the United States government. It seems odd how he always knows when the US is hot on his tail. I imagine we're find out someone has been helping him stay ahead of the US. 
In the end, they were able to push the Disah case ahead about an inch and captured Hiriyyah. I'm really banking on Disah's wife giving them the information they need, but I found myself agreeing with Jose about it looking like a frightened young girl. 
Now it's your turn! Do you think someone is giving Disah intel? Will his wife be able to provide them with the information they need? 
You still have time to catch up before the season finale. Go watch Madam Secretary online now via TV Fanatic. Just make sure to come back to let us know what you think. 
Samantha McAllister is a staff writer for TV Fanatic. Follow her on Twitter.