Wow, Shelby's parents are jerks.
On Quantico Season 1 Episode 17, Shelby was finally reunited with her parents, and it was a huge let down. Their reasoning for faking their deaths made sense. It made them super shady people, but it wasn't a stretch to see why they would do something so drastic.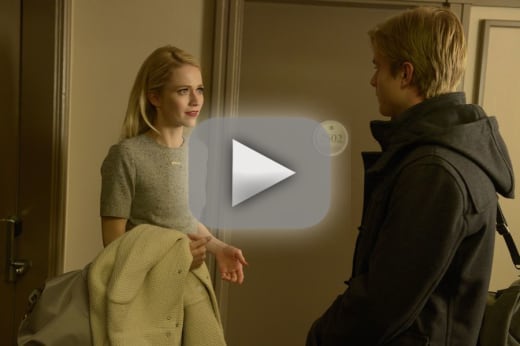 But of course, they are still horrible people. I'm sorry, but couldn't they have at least been decent people who just wanted to be reunited with their daughter?
Nope. Instead, they have to be jackasses who mainly showed up so they could get more money from Shelby.
While at first I was happy that Caleb was suspicious of Shelby's parents so Shelby didn't have to be, that excitement quickly died down when he made them a deal.
Caleb, I need you to listen to me very closely. You don't know Shelby well enough to make huge decisions for her. You've known her, what, a couple months? That does not give you the right to decide what she can and cannot handle.
I couldn't believe the nerve he had. Shelby had a chance to have a relationship with her parents. She would have to give them more money, but maybe she would have wanted to help them now that she had the whole truth. Shelby deserved a chance to make that call herself. She doesn't need a man to protect her from the big bad world.
Will being the asset was a nice surprise. He's the first of the upper class that we've seen in the present day. He's a familiar face, but he's also someone we really don't know that well.
Of course, the question is when did Will get taken by the CIA? Yes, okay, Will has a time frame (over 7 months) for how long he's been there, but we don't know the circumstances surrounding the change from Will to Asset 2281. It's not something that's essential to the story or anything, so we don't ever really have to learn the truth, but it's still something to think about.
The Mark Raymond con has been going on for so long that it's practically impossible that Systemics isn't somehow connected to the The Voice. There's the whole safety deposit box at the bank aka Command Center which exploded must likely from bombs in safety deposit boxes. 
Will claiming not to know about the attacks does make this a bit more interesting, but it doesn't change my suspicions. What do you think? Is Mark Raymond/Systemics a completely separate storyline from The Voice and the bombings or is there a connection?
Did anyone else think it was surprisingly easy to break Will out? The CIA weren't guarding that house at all, and they didn't even make sure it was all secure.
It helped that Alex and Simon put some thought in the getaway plan. They were crafty, but it still bothers me that essentially all Simon and Alex had to do was break a window. Granted they thought they were doing a favor for the FBI, but you would think the CIA would be a bit more cautious, especially since they never asked for identification. 
Ryan's return to Quantico wasn't anything special. The highlight was definitely Caleb's little quip about needing to know if it was another undercover mission. It would have been fun to see Ryan interact with more of the NATs.
Caleb: Hey, tell me this isn't another undercover mission, please. I can't have my heart broken again.
Ryan: It's good to see you too, Haas.
We didn't get to see why Ryan made a good choice to fill in as a staff counselor. All we saw was more Ryan and Alex drama which led to Alex and Drew having sex. I will say, I did love Alex's line to Ryan about how she's known and falling in love with too many versions of Ryan. 
I honestly can't even process that final scene. Shelby's the driver? The Voice wants Simon, too? It's all too much, but hey, at least Alex is free!
Is The Voice really so stupid to think that s/he could show Alex all of this, and she would back down? This is yet another reason why The Voice never should have reached out to Alex in the first place.
What did you think of the episode? Leave your thoughts in a comment below.
Remember you can watch Quantico online anytime via TV Fanatic. I'll see you back here for a discussion of Quantico Season 1 Episode 18.
Allison Nichols is a staff writer for TV Fanatic. Follow her on Twitter and on Google+.