Supernatural Season 11 Episode 18 Review: Hell's Angel

Sean McKenna at . Updated at .
Will God appear on Supernatural?
It's a question I'm sure many viewers have continued to ask, especially with what seems like the numerous mentions of the character on Supernatural Season 11.
And with the way Supernatural Season 11 Episode 18 ended, it certainly feels more likely… right?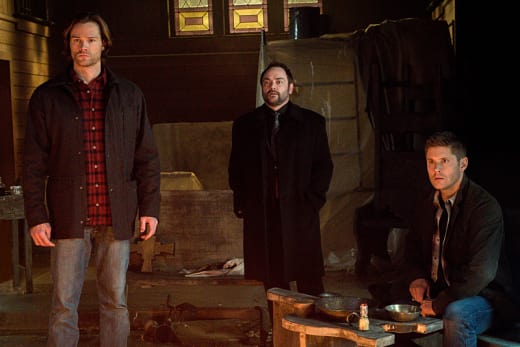 On one hand, it just seems like the right time with God's sister showing up and causing problems that God would finally reveal himself and get involved. Granted, we've seen lots of bad things happen on Earth over the seasons from the apocalypse to the Leviathan arriving, etc., and we haven't heard a peep from him.
So, would Amara using Lucifer to draw out God really work? That's what's going to get him to reveal himself?
The idea sounds exciting, but I also worry that the execution of him arriving might be more of a letdown.
Because while I'm excited that God might show up, I like that God has remained a mysterious character that simply gets mentioned by name. I know many believe Chuck is actually God, but even still, if that is true, he never ran around on the show as God. He was always just Chuck, more of an observer than a participant.
And that makes me think of all the Heaven and Hell scenes, places I thought would be cool to see. Instead, I've grown to dislike them. It's sort of ruined some of the mystery and excitement of just having to wonder what those places are like. I don't need to see boring businessmen and taking a trip to what looks like the Apple store.
So while I'm eager to see God, I'm nervous about him showing up, too.
But it does make you wonder if he's the only one who can actually take down the Darkness.
Certainly, "Hell's Angel" revealed that it's not going to be Lucifer with a Hand of God weapon. At least, not by himself anyway.
And while I like that we know that, and that maybe it's someone else (a Winchester?) who will be the "chosen one," we're back at square one. And I guess that was the point, but it left me feeling somewhat disappointed.
Maybe that's because things took so long to even get to the big reveal that Lucifer can't kill the Darkness.
Crowley, Sam and Dean certainly seemed to enjoy chatting about their plan more than actually doing it. And while I enjoy Misha Collins' Lucifer, I didn't care about him trying to rally the employees in Heaven.
Then there was the return of Rowena. It was certainly an eye-rolling moment.
I haven't been a fan of the cartoonish character, and seeing her so easily return like her death was just a hiccup was off-putting. Why bring her back?
I get that on Supernatural death never seems to be final, but her death at the hands of Lucifer worked. Her presence definitely added a sour note to the episode.
But when things really ramped up and Lucifer arrived, it got interesting. I'm still not sure how Crowley can enter the vessel when both Lucifer and Castiel are hanging out in it, but it did make for an awesome reveal of Mark Pellegrino.
There also was some solid cutting back and forth between inside and out the vessel, though I was expecting Misha Collins to have to do his Crowley impersonation at one point while talking to Sam and Dean.
It was also cool to see Lucifer use the weapon even if it didn't work, followed by that look as the Darkness took control of the situation.
I'm still not sold on the Darkness' evil yet, and we're almost done with the season. Now if she was anything like Crowley at the beginning of the hour (which was the Crowley we should always be getting) then I might be more on board.
But that just makes me curious how things are going to pan out when it comes to the Darkness' fate. Might she not be killed and just head off peacefully?
I wanted to love this episode because it involved the larger mythology, but it just wound up being OK. Though, the hour did go out on a great, intriguing ending, and that has me trying to guess what's next.
Who is God's chosen? Will he reveal himself? Are you glad to see Rowena back? What's next for Sam and Dean? Sound off below, and make sure to watch Supernatural online at TV Fanatic!
NOTE: Supernatural Season 11 Episode 19, "The Chitters," will air April 27 at 9 p.m.
Sean McKenna was a TV Fanatic Staff Writer. He retired in May of 2017. Follow him on Twitter.