The Young and the Restless Review: The End of the Road for Sage

Carissa Pavlica at .
If there is one place on television where you cannot, generally, keep a secret, it's daytime.
The stories are filmed so far in advance, and by the time anything airs, actors have long moved on to new projects. They've shared something on social media. They've been spotted somewhere, doing something. They're human.
This week on The Young and the Restless, Sage died after discovering, at long last, that Sharon and Nick's baby, Sully, was actually her child, Christian, thought to have died before she ever got to hold him.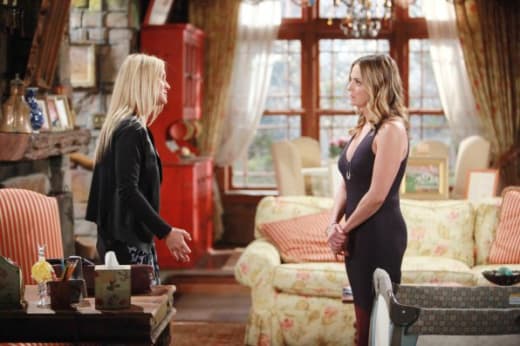 It was shocking. It was unexpected. It worked perfectly.
Sage was a polarizing character from the first time she arrived on the scene. Her first purpose was to reunite viewers with the new Adam Newman. 
It was Sage who rescued Adam and made the decision to reconstruct his face to look like the man she loved and lost. That action alone made her character controversial. She was connected to the replacement of a beloved actor in a popular role. 
Then Sage bulldozed herself into the life of Nick Newman when he was still reeling from yet another breakup from Sharon. This was coming off of one of the more stable time periods between Sharon and Nick. Fans of that couple didn't want Sage making things worse.
Suddenly Sage had screen time nobody felt she was due, and in no time flat, she was in love and worse – pregnant. 
Just to add insult to injury, this character who was already an either love or hate her kind of girl was at the center of a who's the daddy story. A story that won't conclude until long after her death (who knew?).
The story set Sharon and Sage on a collision course (no pun intended) when Dr. Anderson, a murky character from Nick's past, used them to try to reach Nick. Anderson's story spiraled out of control, and she was murdered before we ever truly understood her intent.
The damage, however, was done. Two mothers lives would be ruined at some point in the future. They were ticking time bombs.
And the time bombs somehow find their way to each other, bonding through shared experiences, grief and the boy that, on some level, they shared a deep bond.
Bringing Sharon and Sage closer after Dr. Anderson's death, having them team up as amateur detectives and rely on each other to share some of there inner most fears about what they might discover made an already tragic situation even more compelling.
Both Sharon Case and Kelly Sullivan poured their hearts into their scenes together. People who never liked Sage before realized she had redeeming qualities. People who weren't fond of Sharon liked her more as she bonded with Sage.
There was a particular genius behind getting fans to buy the budding friendship between these two women, and then for the secret of Sully's DNA to be revealed so quickly.
The Young and the Restless has been very quick on wrapping up stories once they get rolling in the recent past. They don't leave viewers hanging for weeks or months, and it really raises the stakes. If you had told me on Monday Sage would be dead by the end of the week, I would have been shocked. 
I wasn't ready. There was so much more to come for the two women. Me and fellow YR fans have been guessing and pondering what this reveal would mean for months. It can't happen like this. Right?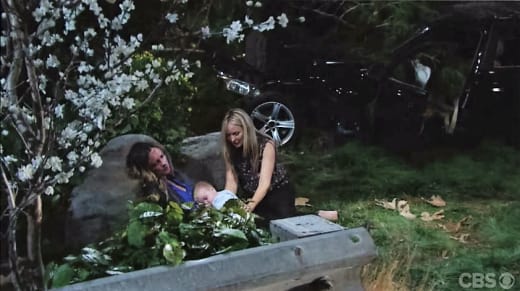 But that's how life is. People are driving their car, they drop their cell phone on the floor and then they die. Sharon was not at fault (surprisingly). She was able to hand Sage her son so Sage was holding him while she took her last breath. Wow.
It was horrifying and terrible, but as upsetting as it was to some viewers, why wouldn't Sharon have given a dying woman, a woman she's come to think of as a friend, her last wish, especially under the circumstances? Even if Sully/Christian was traumatized, he'd eventually want to know he had that opportunity.
Now the next phase of the story will continue. How long can Sharon keep the secret to herself? 
We know the guilt will eat away at her. She was just about to tell Dylan, but then he gave her "if I ever lost you and Sully" statement. Losing Sully will tear him and Sharon apart. Depending upon how detailed the DNA test was, it may have proven Nick isn't the father. 
The entire town of Genoa City will be upended over the news of Sully's true identity, and Sully will lose the only life he's ever known. If this week was traumatic, what's ahead for that little boy will only continue the trend.
Kudos to The Young and the Restless for pulling off a surprising and tragic storyline. It's not easy to do these days. It should have people talking for some time.
What did you think of that surprising twist? Was this ever an outcome you pondered? Where will the couples land now that one woman has been removed from the equation? Let me know what you think!
Next week, unless they pull another big stunt, I should be back in recap mode. Until then!
Carissa Pavlica is the managing editor and a staff writer and critic for TV Fanatic. She's a member of the Critic's Choice Association, enjoys mentoring writers, conversing with cats, and passionately discussing the nuances of television and film with anyone who will listen. Follow her on Twitter and email her here at TV Fanatic.