Law & Order: SVU Season 17 Episode 21 Review: Assaulting Reality

Jack Ori at . Updated at .
Ah, the old he said she said.
Law & Order: SVU Season 17 Episode 21 returnes to the show's roots with a straightforward rape case. 
Except that when the rape occurs on a reality show, nothing is straightforward and the truth is what the producers want it to be.
Was anyone surprised when the executive producers made a scapegoat out of their assistant?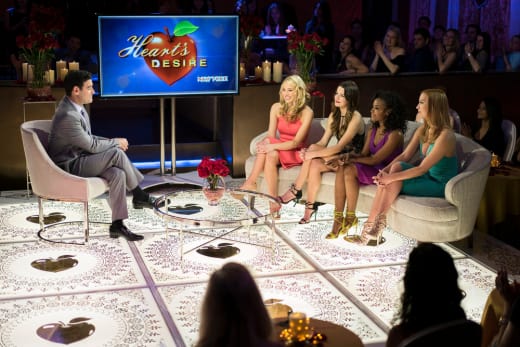 From the moment the cops walked on set, it was obvious that there was more to this case than met the eye. I was sure the show's producers were up to some trick, but I wasn't sure what.
The first half of the episode did a decent job of keeping us guessing. It was possible Melanie had fabricated the entire rape for ratings, that Ryan was lying, that someone else was lying...trying to figure out the truth kept my interest.
Sonny: Did you see what I just saw?
Rollins: She wasn't acting. Did they just air a rape?
Naturally, Rollins was the first one to believe Melanie, while the guys bounced around alternate explanations that didn't involve rape.
Fin and Carisi annoy me whenever they do that. The message it sends is that guys don't believe rape exists unless they're forced to; just once can Carisi or Fin be the one to believe a victim while Rollins and Benson have their doubts?
Mr. Prince: We tell our bachelors to treat all the women as if they were our daughter.
Fin: You have a daughter?
Mr. Prince: No.
No matter what role Michael Gross plays, he'll always be Steven Keaton to me, but he was enjoyable as the sleazy producer. It was pretty obvious the Princes' "helpful" attitude was anything but. They were clearly covering up something and/or attempting to turn this nightmare into a ratings bonanza.
As soon as the cameras started rolling on Graham's arrest, it was obvious the arrest was going to end up on the show. The cops should have realized that and taken measures to stop it from happening.
Having the last 15 minutes devoted to a court hearing about whether the reality show producers had the right to film police proceedings would have been an interesting, different direction to go in with this story.
It seemed like the Princes played fast and loose with people's rights; even if they could film cops on their set, can they really film an interview in the police station without the cops' permission?
So I... I'm not a virgin anymore.

Melanie
The sad thing about this story was that Melanie's rape was more or less an afterthought, just like it was to the producers of "Hearts Desire." Melanie was devastated to discover she'd lost her virginity and didn't even remember it, she got an STD and was accused of making it up to create extra drama or to stay in the game. 
For the most part, though, her trauma was forgotten. As soon as the investigation was complete, the SVU team shifted focus to punishing the Princes for their part in the cover-up while Melanie's rapist pleaded out off screen.
Ryan was a complete gentleman the whole night. That's what made it so special. I think we may be falling in love.

Melanie (interview)
I felt bad for Melanie, though. She was naive enough to believe that a reality show would be her ticket to finding true love. She certainly got a rude awakening.
What did you think of "Assaulting Reality"? How soon did you realize the cops were becoming the stars of a reality show?
Weigh in below, and don't forget you can watch Law & Order: SVU online if you missed anything.
Jack Ori is a senior staff writer for TV Fanatic. His debut young adult novel, Reinventing Hannah, is available on Amazon. Follow him on Twitter.