Law & Order: SVU Season 17 Episode 22 Review: Intersecting Lives

Jack Ori at . Updated at .
Most of the time, SVU deals with ordinary people who are rapists or rape victims.
But Law & Order: SVU Season 17 Episode 22 asks the question: what can you do when your rapist is a cop?
Cops turned criminals can be hard to prosecute because they have a lot of power, and sometimes they protect their own even when someone is doing something incredibly wrong. "Intersecting Lives" delved into all the issues surrounding prosecuting the powerful in a well-done story.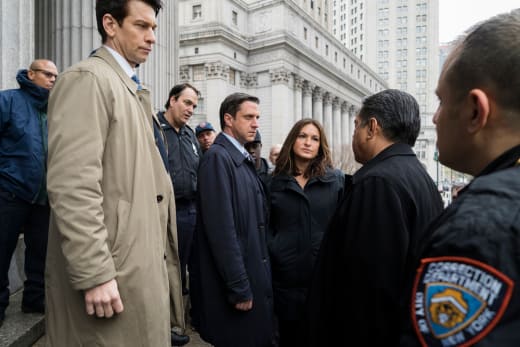 From the first minutes of the hour, it was clear that this case was going to be hard to deal with.
The victim, Charice, didn't want to proceed with the case because she was sure there was nothing anyone could do. Barba said that the word of an inmate with a long prison record wasn't enough, and the cops had to proceed carefully so that other victims didn't get hurt while they were investigating.
Nothing ever sticks at Rikers'.

Barba
As soon as Olivia mentioned the other three girls who had been raped, I knew that nobody was going to want to cooperate. Corrections Officer Munsen seemed to have unlimited power, and no one in the prison seemed to believe the inmates were anything but lowlifes.
The way everyone, from the warden to the female Corrections Officer, dismissed the girls as nothing but prostitutes was as chilling as it was disturbing.
Do you want those two little girls growing up thinking there's no chance? Or do you want them to see their mother fight?

Benson
Benson meant well, as usual, but I felt she wasn't considering all the factors when she encouraged Charice to fight.
She's right – running away isn't the answer – but not only could Charice have been killed to ensure her silence, but the corrupt CO and/or his zealous supporters might not have been above harming those children to make their point.
The threats made against Barba at the end of the hour show how far these people are willing to go to hide their secrets. What makes Charice and her family any safer?
When the female guard admitted Munsen protected her in exchange for her covering for his rapes, I wondered if she had been sexually assaulted, too. In a place like that, especially when corruption seems to be commonplace, it seems like a female guard would be particularly vulnerable to abuse. 
Rollins: He been around lately?
Woman: Yeah. That son of a bitch been around.
The inmate's sister seemed to come out of nowhere. I was shocked that she actually wanted to testify – wasn't she afraid of retaliation against her sister or of being arrested on trumped up charges so that her son ended up in foster care?
Obviously, she was needed to move the story along, but it seemed strange that she was so willing when everyone else was so intimidated.
Barba's reaction to being threatened was strange. What was the address he gave the assailant and why did he tell Benson it was just a face in the crowd that he couldn't identify? Does he know this guy? Does he have a plan to neutralize him? The whole thing was very confusing.
The violence leads into the season finale. From the promo, it appears that Law & Order Season 17 Episode 23 leaves Mike Dodds' life hanging in the balance after Munsen takes his wife hostage and SVU is called to diffuse the situation. 
What did you think? Was this tale of corruption, rape and guards with unlimited power believable? Was Benson too quick to dismiss Charice's concerns? Are you looking forward to the conclusion of this storyline in the season finale?
Weigh in below!
If you missed something, don't panic. Just watch Law & Order: SVU online to catch up.
Jack Ori is a senior staff writer for TV Fanatic. His debut young adult novel, Reinventing Hannah, is available on Amazon. Follow him on Twitter.