The Vampire Diaries Round Table: Dark Denzo Alert!
Paul Dailly at .
Is there hope for Damon and Enzo?
Things took a terrifying turn for them on The Vampire Diaries Season 7 Episode 22 when they got consumed by the darkness in the vault.
Below, TV Fanatics Kelly Thompson, Amanda Steinmetz and Miranda Wicker discuss Elena popping up, Bonnie being saved and whether Season 8 should be the end for the show.
Are you over the show constantly bringing Elena up?
Kelly: Not really. She was so important to the show that it would seem weird if she wasn't mentioned; Damon is basically still in a relationship with her. I'm more shocked about how she wasn't brought up more throughout the season.
Amanda: I'm agree with Kelly. I don't think Elena was mentioned ad nauseam. She was the central female character up until recently, so it would be strange not to talk about her.
Miranda: Yes. YES. I'm over it. I get that she was a central character, but Nina Dobrev chose to exit the series and instead of really taking the opportunity to reinvent itself as it should have, The Vampire Diaries continued to be all about Elena, making a person who doesn't even appear on the show a central character.  
What did you think of Bonnie being saved?
Kelly: There is no way that Bonnie will die on this show because then Elena would have to wake up which can't happen with Nina Dobrev no longer being on the show. I don't understand how they did it. I thought if the last Everlasting died then so would the huntress. Did I miss something?
Amanda: While I still don't get exactly how she was saved, I'm not surprised. If Bonnie does die, it's not going to be until the series finale, so Elena can wake up.
Miranda: I don't get how burning the body of the final everlasting allowed Bonnie and those she'd marked to live when killing the final everlasting when Rayna was the huntress would've killed everyone. But it's not like they weren't going to save her, so, you know. 
What will become of Damon and Enzo?
Kelly: I have no idea. The gang will obviously save them but how and what is even going on with them? The only information we know about what the vault monster does is fill people with darkness so will have to add compassion and hope back in the boys?
Amanda: Stefan, Caroline, and Bonnie will eventually track them down, but I have a feeling saving them will be more of a challenge. I'm just really curious what the hell was in the vault that did this to them.
Miranda: They'll be found and exorcised and all will be right with the world again. 
Is there hope for Steroline?
Kelly: I can't stand Stefan and Caroline together so I wish there were no hope but I'm sure they will be together for the foreseeable future now.
Amanda: It appears that they are back together, so I'm sure there will be a grace period for them to be happy until inevitably something bad will happen.
Miranda: For the duration of the series, sure. Beyond that? Steroline probably aren't riding off into the eternal sunset together.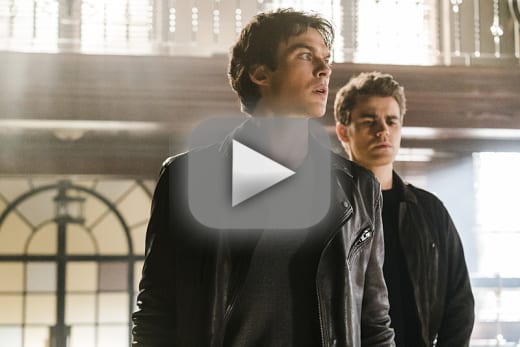 Do you want to see Matt again?
Kelly: No. His character has served its purpose.
Amanda: Not really. Matt hasn't had much to do over the last few years. 
Miranda: I want them to free Zach Roerig so he can sign onto a show that gives him a good story that will allow me to see his blue, blue eyes more frequently. 
Do you think Season 8 should be the end for the show?
Kelly: Maybe. Dobrev has to return for the series finale so if they can get her to come back then sure. This hasn't been the strongest season but I have faith that season 8 could be great. I'll hold off on a decision until season 8 is airing.
Amanda: Yes! I think it should also be shortened to half a season. With fewer episodes, the writers would have to make the storytelling tighter, which could lead to a powerful ending for the series. 
Miranda: Yes. I'm with Amanda. I think the The Vampire Diaries Season 8 should be its last. As much as I love the series and the cast and everything about the show (and really, I do love it) it's time.  
Grade the season finale.
Kelly: C ... C-
Amanda: C+
Miranda: D- 
Remember you can watch The Vampire Diaries online to get up to speed with the latest drama.
What did you think of the episode? Hit the comments!
Paul Dailly is the Associate Editor for TV Fanatic. Follow him on Twitter.