Animal Kingdom Season 1 Episode 7 Review: Animals

Lisa Babick at .
Deep down, Smurf is a broken woman.
On Animal Kingdom Season 1 Episode 7, we get a bit of a backstory on Mama Cody, and it's more than a little sad.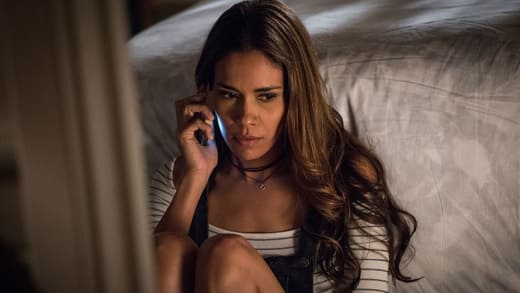 Smurf can be a stone cold bitch, and now we know why. It had to be hard growing up the way she did with a mom like hers: drugs, sex, and rock-and-roll topped off with what appears to be more than an occasional robbery.
Not exactly a great role model.
But, kids can be resilient, and somehow, I think that Isaiah provided her with some sort of stability. At least he gave her a feeling of stability. Her abnormal life (though she probably thought it was very normal) was made complete with a "dad" in the picture.
And, had things not turned out the way they did, she might've been a completely different Smurf than the one we know now. Maybe Miriam and Isaiah would have grown out of their crazy ways and settled down. Maybe.
He obviously loved her, and he probably thought of her as a daughter much in the same way she probably thought of him as a father.
And, I think she loved him, too. Otherwise, she would not have kept the nickname he gave her.
But, the real reason I stayed was for that kid. She was funny and smart and sweet. Sort of took care of us both. She loved to swim. She'd stay in the water till she turned blue. I called her Smurf.

Isaiah
But, what a slap in the face for her when he took off after a job gone bad. At least it seemed like that's what happened. 
The whole story explains a lot about who she is now and why she's the way she is with her kids. All of the seemingly inappropriateness makes so much sense now.
So, what did happen after Miriam was killed? How did it all go down? Did Isaiah really take off with the car and leave Smurf behind?
I hope we find out more about what happened that day. And, I'm really curious as to whether or not she actually killed Isaiah. I want to think she didn't because the story he told moved her, and she realized he meant something to her.
But, still. That was a powerful flashback, and Smurf doesn't seem the forgiving kind.
What do you guys think?
Baz has turned out to be a real bastard. He used to be my favorite, but now I hate him. He's not a nice guy.
While I can understand Cath's fear of Pope, I don't really see Pope as a danger. he's just passionate and real.
But, when she expressed her fear about him, Baz could have at least shown some concern. Instead, he blew her off. Like he blows her off about everything, including making a baby when it was his idea. His great idea until momma slapped it down.
Loved that Cath ran with that one.
What does Cath see in Baz, anyway? Things would be so different if she was with Pope. And, yes, I'm shipping Pope and Cath. They would make a great couple. He'd love her and worship her and wouldn't cheat on her. I hope Lena is his.
But now, because Baz is a bastard, Cath has turned to her cop friend. I'm guessing that Patrick the cop knows who she is and who the Cody's are. Once she steps into that ring, she's going to be in the same situation J is in.
And J is in a bad situation.
Baz doesn't trust him, and that's not good at all. He made it very clear after Paul left the house. And, Pope told him the same thing later.
But, that is actually a good thing, because if there's anyone who's going to protect J, it's Pope. Pope loved Julia, and I really believe he'd do anything to protect his sister's son. And he doesn't like Baz.
Baz wants something, he gets it. Doesn't matter what happens to anyone else.

Pope
There is no doubt in my mind that Paul is a dead man. The minute this job is over, Baz is going to put a gun to the guy's head, pull the trigger, chop him up, and feed him to the sharks.
J already knows something's up. The question is how much is he going to tell Alexa now that he knows she's working with the cops.
Will he work with her to protect Nicky? Will he be able to save Paul before it's too late?
I feel really bad for J. It's sad that he had to take care of his teacher, the person he went to for help and support, the same way he had to take care of his mother. And while I understand Alexa's reasoning behind sleeping with the kid, she's and asshole for doing it.
She's exactly what Detective Yates called her: weak and selfish.
You are in this situation because you are weak and selfish, and you're going to get yourself out of this situation by being weak and selfish. That's who you are.

Detective Yates
He would have told her everything anyway at some point, because he needs someone he can depend on, someone to trust. She took advantage of that and now he's in a worse situation than he was before.
If I was him, I'd tell Pope and let Pope take care of it.
You know he would.
Look at what he did to Dave with just the knowledge that something the guy did upset his brother. He didn't even know what "it" was.
This and That:
We met Craig's dad. And, no, he doesn't look like him.
I love that Pope cleaned up the mess from the party. Shows character.
Was anyone else as surprised as I was that Craig knew Deran was gay? And what a great brother for trying to 'ship him and Adrian. It's just too bad Adrian is afraid of Deran.
It's getting pretty intense on Animal Kingdom. What do you guys think will happen next? Hit the comments!
If you've missed any of the action, you can watch Animal Kingdom online, right here via TV Fanatic!