Major Crimes Season 5 Episode 4 Review: Skin Deep

Jack Ori at . Updated at . Comments
Poor Flynn. Even when Provenza tries to help, he ends up cursing him.
Or maybe Provenza did Flynn a favor, since nobody wants to live in a house with toxic mold.
Either way, Major Crimes Season 5 Episode 4 showed viewers that for the Major Crimes Unit, ordinary activities like touring a house for sale end up being more work than they bargained for.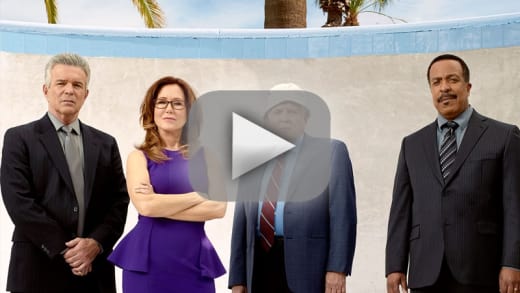 It was meant to be funny, and in a way it was, that after everything was said and done, the house was unsuitable. Still, I couldn't help feeling bad for Flynn. He had his heart set on moving into a gorgeous house with Sharon and Rusty.
Maybe next time the house won't come with murder in the backyard and toxic mold everywhere else.
Woman: Oh my God. Is that really Heather? She was so full of life on Sunday?
Provenza: That's why they call it... MURDER.
Provenza's attempt to intimidate the other people making offers on the house was easily the most amusing part of the hour. He sounded like a parody of an Agatha Christie novel.
Of course, nobody was pressured into confessing, which was a good thing as none of them were the actual murderer.
Who didn't want to kill this woman?

Sharon
"Skin Deep" turned the trope of the victim being perfectly loved so that there are no viable suspects on its head by making the victim a detestable person that everyone had a motive to kill. For once, I had no idea who it was by halftime. 
Yu: That would violate doctor-patient confidentiality.
Provenza: You're not a doctor!
Dr. Yu seemed like a plausible suspect but in retrospect was an obvious red herring since he appeared so early in the hour. Also, the joke about mixing up "you" and "Yu" was overused.
However, Heather was blackmailing him in addition to keeping the identity of her son's father hidden. Too bad he didn't find out about that little scheme. He could have neutralized her blackmail with some of his own.
Oh! She drowned. Can I see the prelim?

Hobbs
Hobbs found the case a little too entertaining. She sounded like she was watching it on television when she found out about the drowning.
Dr. Irwin was one of the stupider criminals, thinking that because he's a dentist he can get away with murder and falling for the ploy of the detectives "understanding" that he didn't mean to kill anyone and only needing him to confirm it.
The LAPD only wishes we could spend more time reuniting fathers with their sons.

Tao
The Ethan subplot was interesting. Did we ever find out why the boy was living with his grandparents instead of his mother in the first place?
Did anyone else think Julio was going to end up taking care of Ethan? He's been trying to become a foster parent for the last several episodes and there was a chance Ethan would be removed from his grandparents' care.
If you really want to know what's going on with that house, there's two people you can ask, and I'm neither of them.

Buzz
The Rusty subplot was minimal. It's an improvement over the ridiculous Rusty's bio-mom plot of this season, but Gus was conveniently absent and Rusty's fear was easily resolved.
I'd have liked to have seen him talk to Dr. Joe about how he thought he was going to be abandoned again just like his bio-mom did. That would have been moving, as well as being the only way his concern made any sense.
There was no real reason for Rusty to fear he was getting in the way or that he wasn't being invited to live at the new house.
Buzz's personal investigation didn't get much air time this week. We did get a couple of clues from Provenza in the last scene, most notably that the guys who robbed and killed Buzz's family weren't amateurs. 
It was disappointing that that storyline took up so little airtime. It's one of the most interesting aspects of this season.
What did you think of "Skin Deep"? How long did it take you to figure out who did it? Did you enjoy Provenza's plan to keep other buyers away from the house?
Weigh in below, and don't forget you can watch Major Crimes online any time you want to see more of Provenza, Flynn and the rest of the Major Crimes Unit.
Jack Ori is a staff writer for TV Fanatic. Follow him on Twitter.