Outcast Season 1 Episode 7 Review: The Damage Done

Lisa Babick at .
Reverend Anderson has lost his mind.
At least that's what the townspeople must be thinking after his tirade during Remembrance Day on Outcast Season 1 Episode 7.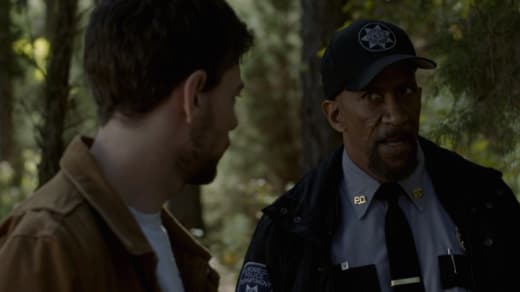 There is no doubt that Patricia's juvenile delinquent son (I forget his name) is the one responsible for drawing the pentagram on the coal miner memorial. He saw everything that happened to Reverend Anderson at the hands of Sidney, and he and his friends had painted graffiti on the church previously.
It makes you wonder if maybe the boy is one of the demons, because if I saw some guy carving a pentagram into another man's chest, I'd be just a little scared. This weirdo kid obviously wasn't.
It's not surprising that the good Reverend is out of sorts. His town is full of demons that he can't get rid of, and he's had the pleasure of meeting the devil face-to-face.
What I don't understand is how the Reverend can be so bold to confront Sidney after what happened. He hasn't been successful in ridding the town of the smaller demons, so how can he think he can get rid of the big man, himself?
He's just asking for trouble.
Or maybe he thinks that this is his ultimate test, that if he can rid the town of the ultimate demon (by himself without Kyle's help), it will make up for all of his other failures. Because, you think he would have called up Kyle to tell him what happened, but he didn't. And that was a mistake.
But luckily for him, Kyle was there to save his ass at the end. That was an amazingly tense scene when Reverend Anderson called out Sidney in the middle of the square.
That man is the devil.

Reverend Anderson
It wasn't enough that he followed Sidney to the barbershop earlier and confronted him. What did he really think the devil was going to do? Sidney was not even fazed by his threats.  And he certainly wasn't fazed by the Reverend's pointing finger at the memorial service.
The only thing the Reverend accomplished was making himself look unstable. I felt really bad for him. He has basically become a shell of his former self. 
What I would like to know, and I hope we delve into this before the end of the season, is what happened to his son and his wife?
Giles knew something was up when he showed up for the weekly poker game and Anderson looked like he was a mile high. I was surprised that Anderson actually told Giles what happened, but it's not clear how much Anderson told him. Did he tell him he was carved up by the devil?
Giles wouldn't question it at all. He knows there's something happening in his town.
I think there's a stain on this town. It's getting worse.

Giles
At the poker game, he dug into Ogden some more to try to find out what was going on in that trailer. Ogden wasn't having any of it and it ended up in a fist fight.  Eventually Giles will get to the bottom of what the trailer thing is all about, no matter how many times Ogden tells him to look the other way.
Giles even recruited Kyle to see if Ogden was one of them, but as it turns out he wasn't. His wife is though, and that's interesting, but we sort of knew there was something off about her after Giles' dog went crazy around her at the BBQ on Outcast Season 1 Episode 4.
Ogden is involved in all this somehow. It's going to be interesting to see exactly what his part is.
Allison isn't possessed anymore and neither is Amber, which is surprising because I really thought Amber was. That little girl really loves her daddy, and I don't get the feeling she's going to be too sad to find out mommy left. But, why did Allison leave? Because she remembered she was possessed? It's just odd and I'm sure there's more to come on that end.
Mark is in a whole heap of trouble and so is his family now that he's suspended and Megan gave away all their money. Is Megan going to have to go to another extreme to save her family? It's going to be tough now that Giles and a lawyer are involved. Donnie is not going to be going away soon it seems.
There are many tendrils coming into play as we approach the end of the season, and we just might end up with more questions than we have answers.
What did you think of "The Damage Done?" Hit the comments and let us know.
If you missed any of the action, you can watch Outcast online anytime, right here via TV Fanatic!